We've got fun pumpkin crafts with walnuts for kids all made from a very nutty ingredient! This special ingredient is the mighty walnut! A tasty snack, but also a great crafting supply!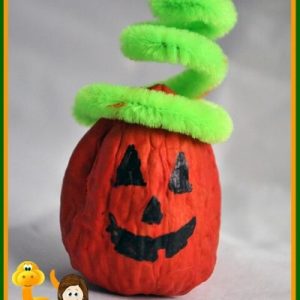 Usually the mixed nut table decorations (and snack) make their appearance around Thanksgiving and Christmas… which is also around Halloween.
We thought it would be a fun way to decorate for Halloween with some miniature jack o'lanterns.
If you wanted to make some of these as table decorations for Thanksgiving, you could skip on the jackolantern face and just make mini pumpkins.
As long as your friends or family members are not allergic to nuts these can still be eat, as the paint is only on the shell.
Miniature Jack O'Lantern – Pumpkin Crafts With Walnuts
Make sure if you make more than one of these you make them all with unique and different faces! Have fun with it!
Craft Supplies:
Walnuts
Paint (orange and black)
Paint brush
Pipecleaner (green)
Step #1:
Paint the entire walnut with orange paint. Set it aside to dry.
Step #2:
While the walnut is drying, twirl a green pipecleaner into a spiral.
As you twirl make it smaller, and smaller with a short stub at the end for a stem.
Step #3:
Once the walnut is dry, paint on a face with black paint. Make sure that the pointed end of the walnut is the top of your jack o'lantern.
If you want more detail, you can also use a black permanent marker.
Step #4:
Place the green pipecleaner onto the pointed end of the walnut.
You can glue this in place if you want it to say put.
These food crafts for kids are all the Halloween festiveness without the googey pumpkin mess!
More Food Crafts for Kids & Halloween Crafts:
More Easy Crafts Like This One:

Here's a few more food crafts, similar to our walnut jacko'lantern.
Easy Crafts for Kids is social too! Be sure to join us and keep up to date on what the Crafty Critters are up to:

Do you like Pumpkin Crafts With Walnuts?