Fall is a time for pumpkins! Find out how to draw a pumpkin easily with my realistic pumpkin drawing instructions complete with pictures.
As October approaches I am always looking for new themed crafts and drawing tutorial for my kids to complete! We all love pumpkins and I figured I could teach my children how to draw pumpkins!
They can use this pumpkin art for pretty pictures, Halloween cards or Thanksgiving cards. How about making place cards for Thanksgiving dinner using a picture of a pumpkin alongside someone's name?!
Pumpkins come in all colors and sizes so you can draw yours any color or size you wish!
What do you need for this Pumpkin Drawing Easy
This is a great Halloween or Fall drawing activity for kids of all ages. The thing I love most about this type of pumpkin is the fact there is no mess!! So how do you draw a realistic pumpkin?! What supplies should you gather.
You need
Pencil.
Drawing Paper.
Eraser.
Ruler.
Sharpener.
Color pencils/ Sharpies
Most people have all these already, so the only preparation work you need to do is print the tutorial!
Why I love my How to Draw an Easy Pumpkin Tutorial
Great for both Halloween and Fall
Suitable for young kids and adults alike (in fact why not do it together and see who's is best)
15 simple Steps with images to guide you
Starts off with a squiggly line as shown below (simple start will motivate little children who might find the idea of drawing a Halloween pumpkin difficult)
Variations of this Easy Pumpkin Drawing for Kids
Okay I know you love the look of my easy to draw pumpkin but you might be wondering how you could make it different!
-Do not draw the individual rinds and leave the pumpkin orange. You can encourage little children to draw a smiley or scary face using a black marker! This would then become a Jack O Lantern!
Alternatively you could draw several pumpkins and make some smaller than the rest, i.e mini pumpkins. You could also draw some giant pumpkins; they do exist!
Why not experiment with colors; we do get bluish pumpkins and green ones also. You might want to draw a Queensland blue pumpkin or a Jarrahdale as opposed to a traditional orange one!
Find out how to Draw a Pumpkin Step by Step with images below
My printable instructions below are a godsend as you can print as many copies as you like and keep them for another time. You can store them in your craft folder for a rainy day!
I do know some older kids like to keep my website tab open while they complete the Halloween pumpkin drawing but sometimes this is not possible.
Younger kids may like to copy an adult as they draw or they may wish to follow the picture instructions.
Encourage little kids to try to follow this how to draw a pumpkin easily tutorial as it is much simpler than it looks!
Remember you can do it as many times as you like! After all, each pumpkin is unique; they do not look the same.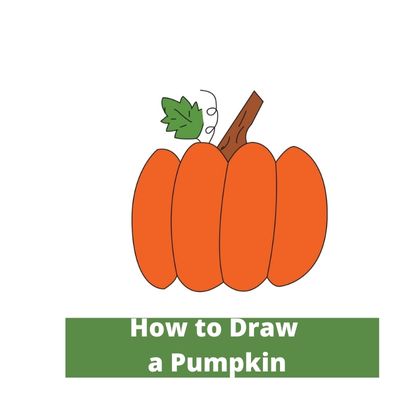 How to Draw a Pumpkin Easily
Fall is a time for pumpkins! Find out how to draw a pumpkin easily with my easy drawing instructions complete with pictures.
Materials
Pencil.
Drawing Paper.
Eraser.
Ruler.
Sharpener.
Color pencils/ Sharpies.
Instructions
Step 1:
To draw this easy pumpkin, first you need to draw 4 (four) curved lines on the paper.

Draw the two lines on the ends slightly smaller than the two lines in the middle.

The two curvy lines should be symmetrical, and the two curvy lines on the ends should be symmetrical to each other.
Step 2:
Now draw similar four curvy lines under the previous curvy lines. Keep at least two inches gap in between them. Your pumpkin should look as below.
Step 3:
Now, join the middle part of the first lines with the middle part of the second lines.
Step 4:
Similarly draw a line from the top second left point to the bottom second left point as below.
Step 5
Repeat this on the right side.
Step 6:
Now, draw a curvy line from top to bottom joining the two ends.
Step 7:
Similarly, join the left side as well.
Step 8:
Draw the pumpkin's stem on the top.
Step 9:
Add a little detail on the stem.
Step 10:
Then, draw the leaf beside the stem.
Step 11:
Draw leaf's veins.
Step 12:
Draw the vines of the pumpkin to finish the drawing.
Step 13:
Use green color to fill in the leaf.
Step 14:
Color the stem using brown marker
Step 15:
Color the pumpkin using orange marker.
This really is an easy pumpkin drawing for kids when you follow the individual steps. Please tell me how long it took you to complete a realistic pumpkin drawing!
Why not search for some pumpkin pictures to draw online. You can just do a simple search on Google. Some of these are easy to draw pumpkin images while others have lots more detailed vines and flowers.
You might also want to learn how to draw a pumpkin patch, which is much more difficult of course.
If your kids are really creative them may draw lots of pumpkins and decorate them differently.
They could also draw a scary face on their pumpkins and make them look like Jack O Lanterns.
Why not combine this with some of my cute pumpkin coloring pages or even my Pumpkin treat bag craft.
If this has got you in the mood for drawing, why not try to draw my turkey easy drawing and my hedgehog drawing cute
Why not try some more Halloween drawings?! Easy Drawing Guides has a great Halloween cat drawing tutorial for kids to follow!
Do you now know How to Draw a Pumpkin Easily?
Hi there, I'm Laura an avid kids crafter with two little ones of my own to keep entertained! I have been doing kids crafts since 2018! Here at Easy Crafts for Kids you can find seasonal crafts for all age groups, as well as drawing tutorials, coloring pages and some other fun printables!