My Quilled cross craft is a great way to help kids understand the Easter story and how Jesus died on the cross to save our sins. These cross crafts for Sunday School are aimed at older kids.
[ez-toc]
Quilling Cross Crafts for Kids
Religious crafts for Easter are very important to me as I love teaching my kid's all about the Bible and Jesus love for us.
Previously I made a great Resurrection paper plate craft which tells the Easter story using paper plates. This makes it so simple to explain how Jesus died on the cross, and rose again!
Older children like to craft too and quilling is particularly popular. You can make a really pretty colorful picture by quilling colored craft papers.
This Easter quilling craft can be completed by older kids in Sunday school, in school or at home. Younger kids will need some help with it. The end result is a brightly colored cross.
Experience in quilling will make this much simpler. You should learn how to make marquise and teardrop quills to complete this.
How to Make a Paper Cross Craft for Kids
Below you will find a step by step guide on the quilling cross patterns I used for this craft.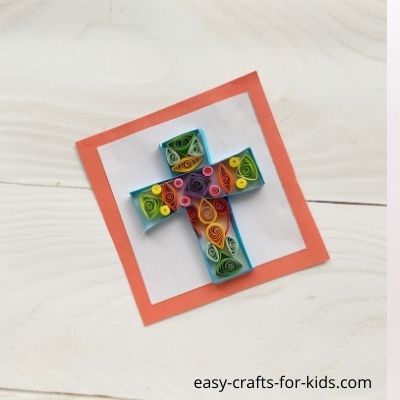 Quilled Cross Craft
My Quilled cross craft is a great way to help kids understand the Easter story and how Jesus died on the cross to save our sins
Materials
Quilling Papers.
Quilling Tools.
Ruler.
Quilling Scales.
Glue.
Cardstock Paper.
Instructions
Step 1:
Select a 5-6 inch quilled paper strip and grab your quilling tool.
Step 2:
Roll quilled strip into a slightly loose coil
Step 3:
Press the sides to give the coil a square shape.
Step 4:
Select your card.
Step 5:
Use a blank pen to draw the Cross's outline on the card. This will work as a guide to make our craft. You can see this below.
Step 6:
Glue the square quilled piece on the centre.
Step 7:
Make some triangular quilled shapes using a different shade/color of craft paper.
Step 8:
Glue the triangular pieces on each end of the cross. We are filling in the centre and all ends to make this craft easy for us
Step 9:
Glue tiny coils around the four corners of the square shape
Step 10:
Make a teardrop-shaped quilled piece.
Step 11:
Glue the rear drop-shaped on the bottom half of the cross vertically.
Step 12:
Then, make some marquis shaped pieces with quilling strips and glue them on the upper gaps of the cross.
Step 13:
Use a bright coloured quilling strip to fill in the borders of the cross.
Step 14:

Now, use small quilled coils to fill in the rest of the gaps inside the Cross's border .
Step 15:
To finish your card glue a back cover on the card.
What will you do with your quilled cross craft for kids? You could stick it on your wall. Why not let little kids add a message below. They could write something like 'Jesus Loves Me' or 'He is Risen'.
You could also stick this onto some cardstock and turn it into an Easter greeting card for your friends.
Cross Crafts for Preschoolers
As I mentioned above this Easter cross craft is much too difficult for younger kids. Obviously preschool kids want to make their own paper crosses to tell the Easter story.
One great idea I have, but have not created is to make a tissue paper cross craft. An adult simply has to draw the outline of a large cross on A4 paper, and little kids have to cut different colors of tissue paper and stick these onto the cross area. This exercises fine motor skills and enhances color recognition.
My Easter religious crafts include a popsicle stick cross craft for preschoolers and older kids and a palm leaf bracelet if you want some more ideas for things to make with your children.
Will you make my Quilled Cross?
Hi there, I'm Laura an avid kids crafter with two little ones of my own to keep entertained! I have been doing kids crafts since 2018! Here at Easy Crafts for Kids you can find seasonal crafts for all age groups, as well as drawing tutorials, coloring pages and some other fun printables!