This easy paper plate dinosaur craft for kids lets children as young as 3 and 4 make their own dino from basic craft supplies.
Little boys love everything to do with dinosaurs! They are also at the age where they are starting to want to make crafts.
In the past I have made dinosaur finger puppets which were a huge hit for storytelling. You can use these for kids of different ages. Younger kids will listen to an adults made up stories whilst older will make up stories of their own.
Older children may enjoy making my Father's Day dinosaur card which is adorable.
Crafting with paper plates is an inexpensive activity which lets you make almost anything you wish.
This is one of my favorite animal paper plate crafts for children. It is brilliant for Mums who are looking for a quick craft activity for their littles.
My easy step by step craft procedure with images shows you how to make a dinosaur from a paper plate. If you like the sound of this you would love my cool dinosaur craft ideas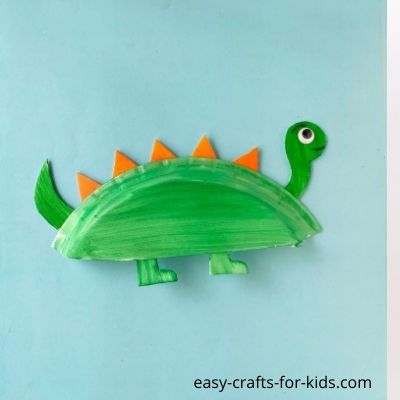 Easy Paper Plate Dinosaur Craft
This Easy Paper Plate Dinosaur Craft for kids is ideal for preschool or Kindergarten age kids! Use my free tutorial and template to make your own dino.
Materials
Paper Plate.
Acrylic Paint.
Paintbrushes.
Ruler.
Scissors.
Glue.
Googly Eyes.
Instructions
Step 1:
Select your paper plate.
Step 2:
Cut the paper plate in half.
Step 3:
Then, cut out the rest of the pieces for the dinosaur from the other half of the paper plate using the PDF templates.
Step 4:
Paint the pieces using acrylic paint.
Step 5:
Glue the dinosaur's head and tail to the paper plate.
Step 6:
Then glue the dinosaur's legs on the bottom.
Step 7:
Now glue the spikes on the dinosaur's back.
Step 8:
Then, glue the googly eye on the dinosaur's head.
Will your kids give your cute dinosaur a name? He is great for pretend play! You can make lots of these very quickly!
You can take them into the garden on a dry day also and pretend that is where they live.
Please print off my free PDF Template to help make this dinosaur craft as simple as possible:-
Paper Plate Dinosaur Template Free
Will you make this Easy Paper Plate Dinosaur Craft?
Hi there, I'm Laura an avid kids crafter with two little ones of my own to keep entertained! I have been doing kids crafts since 2018! Here at Easy Crafts for Kids you can find seasonal crafts for all age groups, as well as drawing tutorials, coloring pages and some other fun printables!