In my house unicorns are talked about daily! My little girl dreams of having her own but for now she will have to make do with my unicorn cup craft.
Unicorns to girls are what dragons are to boys! Both my kids love make believe and fantasy! Why not celebrate National Unicorn Day on 9th April with some of my ideas! You could make my toilet paper roll unicorn or my unicorn bookmark.
Did you know that narwahls are known as unicorns of the ocean? My little girl loves these too!
My easy crafts for kids lets children and their parents make cool things in a few steps! Many of my activities require some colored craft papers, glue, markers and scissors. They can be completed in under 15 minutes, which is perfect for young kids.
If you want to know how to make an unicorn from a cup please check out my step by step craft procedure below complete with images. This is broken down into short steps which are suitable for younger children. Older girls will enjoy making these too though.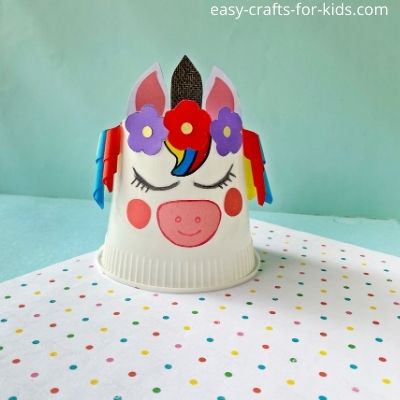 Unicorn Cup Craft
This unicorn cup craft for kids will entertain little girls who love the magical creature! They can use their completed craft for pretend play or decor.
Materials
1. Plastic cup.
2. Craft papers.
3. Glitter paper.
4. Pom poms.
5. Pencil.
6. Scissors.
7. Marker pens.
Instructions
Step 1:
To make this plastic cup unicorn you need to print out the PDF templates and cut out the pieces carefully using scissors.

You can cut them out on colored craft papers of your choosing or alternatively print them on white paper and let young kids color them in. You can see what colors of paper I used below. The choice is yours.


My 5 year old is a coloring addict and I know this would be her preferred option.

I guess if you had lots of time and wanted to spread the activity out over an hour you could do the coloring method. Use coloring pencils, markers or even paints.
Step 2:
First, glue the small ear pieces inside the larger pieces.

Then, glue the pollen bits inside the flower (use small circular pieces of craft papers to make the round pollen)

Now, draw the nostrils and lips on the mouthpiece.

Colour the fringe using colourful marker pens.

Step 3:

Draw the eyes for the unicorn using a black marker pen. Add some pretty eyelashes in black also. My 5 year old was able to do this step as her fine motor skills are pretty good.

Step 4:

Now, glue the horn on the top of the plastic cup.



Step 5:

Then, glue the two ears on two sides of the horn. These look very similar to bunny ears!



Step 6:

Glue the mouth on the centre of the plastic cup.
Step 7:
Then glue the cheeks on two sides. You can draw these on if you prefer.
Step 8:
Now glue the fringe on the front right below the horn.
Step 9:
Cut out the strips for the unicorn's hair from the printable template


Step 10:

Use a thin rounded stick to roll the paper strips and make them swirly. This means our unicorn's hair will not be straight but will be curly. In fact they almost look like ringlets.


Step 11:

Make two sets of hair strips. One for the right hand side and one of the left hand side.

Step 12:

Glue the hair on both sides.

Step 13:

Finish it off by gluing the flowers on the front. This is like her headband





These make a great craft ideas for a girls Birthday party! Afterwards why not fill them with small candies for your friends to take home?
You can use these for pretend play also, or keep them for decoration in the house.
I am happy to provide a free PDF template which features some things to help you make the unicorn's features.
Do you like this Unicorn Cup Craft?
Hi there, I'm Laura an avid kids crafter with two little ones of my own to keep entertained! I have been doing kids crafts since 2018! Here at Easy Crafts for Kids you can find seasonal crafts for all age groups, as well as drawing tutorials, coloring pages and some other fun printables!