Easter is not just about edible chocolate eggs, it's about decorative ones too! My quilled Easter egg craft is perfect for kids who love everything Easter egg!
There is no better time to do some crafting that the Easter holidays! The weather can really be a mixed bag and sometimes little kids need a break for the outdoors and a chance to sit down and do something creative.
I have such a variation of easy Easter crafts for kids so I am sure your little's will find something they want to make, whether it be my Easter Hatching Chick or my Rabbit Paper Plate Craft
I adore arts and crafts with colored papers so it was only natural I would select this activity for my oldest daughter to do.
She really enjoyed selecting the colors and trying her hand at quilling, which is easier than it looks! Please see the recommended reading at the bottom for advice about different quilling shapes.
My 5 year old can make the circles but not the other shapes so I would recommend this craft for older kids, like maybe 7 or 8 year olds. It's great for adults too, definitely therapeutic.
Previously we made a fabulous Quilled Hot Air Balloon for Dr Seuss Day but only used circular shapes!
Below you can find my quilled Easter egg tutorial which provides you with a pattern and images to follow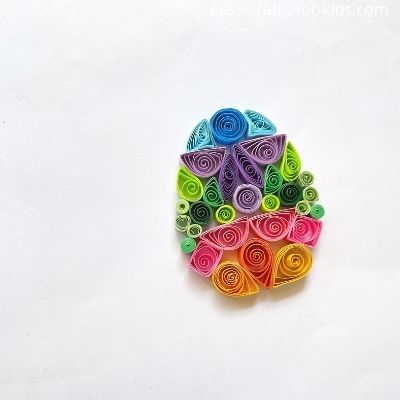 Quilled Easter Egg Tutorial
This beautiful paper egg is very simple to make if you follow my quilled Easter egg tutorial.
Materials
Quilled Paper Strip.
Card-stock.
Scissors.
Glue.
Quilling.
Quilling scale
Instructions
Step 1:

Cut out the egg shape from a card stock paper using the templates.


Step 2:

Make different shapes and colourful quilled pieces for the egg. I have included a link to a website at the bottom of this post which explains paper quilling patterns and shapes.

Of course you can stick to make quilled circles in different colors or you can add in some of these different shapes.

Why not make a more simple quilled Easter egg for younger kids and do a more intricate one for yourself.

Step 3:


Start by gluing a circular quilled paper on the top of the egg shaped card stock.


Step 4:


Then glue two triangular quilled pieces on two sides of the circular piece.



Step 5:


Then take more different coloured quilled pieces and glue them on the next row.

Step 6:


Use as many shades of colour as you like. Use shapes that fit best inside the egg shape.

Step 7:


Now take three tear drop shapes and glue them on the bottom of the egg. I have changed the orientation of them.

Step 8:


Use some pink shaded half moon and square shapes above the tear drop shapes.


Step 9:


Fill in the rest of the small gaps using small circular quilled shapes.


In order to make this craft you might want to print my free PDF template which contains egg shapes
You can freestyle this craft and put the quilled papers wherever you like or you can copy mine exactly.
Unlike my other quilling projects this one involves different shapes and not just circles.
I have include details of a brilliant website which will teach you all about different paper quilled shapes including teardrop, tulip and diamonds to name a few. Perhaps you may want to read this first before completing this craft.
The Ultimate Paper Quilling Tutorial for Beginners (craftsy.com)
Why not make a few?! Some people like to stick these onto cards and turn them into Easter cards for their friends!
Will you make a Quilled Easter Egg?
Hi there, I'm Laura an avid kids crafter with two little ones of my own to keep entertained! I have been doing kids crafts since 2018! Here at Easy Crafts for Kids you can find seasonal crafts for all age groups, as well as drawing tutorials, coloring pages and some other fun printables!