Animal lovers will adore these cute cat coloring pages for kids! Perfect way to keep kids entertained on a cold wet day.
My children love the idea of having pets but right now we do not have any. One of their favorite things are kittens. We live near a busy road and I would worry about them running out in front of a car so I have ignored their pleas for a little black cat.
Instead we admire our cousin's cats and do some cat crafts instead. We have made various different things including a Cat pencil holder and a cat pop up card which is perfect for feline lovers.
We do have some great educational cat worksheets to keep little mind's busy and just recently I have designed two free cat coloring pages. I do hope in the future so keep many more of these.
You can see what these look like directly below and there is an option to download the PDF for each of these.
These are just one set of my printable coloring pages for children
Printable Cat Coloring Page
How happy does this kitty cat look to be outside on a hot sunny day. What could be better than some fresh fish for dinner. Can little kids color this in before the cat gets around to eating his dinner!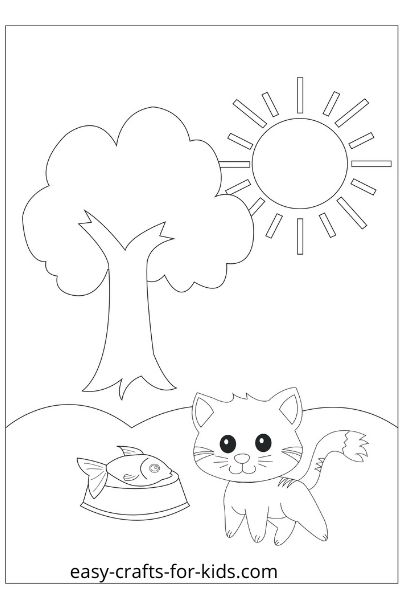 Print this as many times as you like below:-
Free Cat Printable Coloring Page
If you want an indoor cat coloring page you can choose this one instead. This lovely kitten is getting ready to tuck into a bowl of cat food.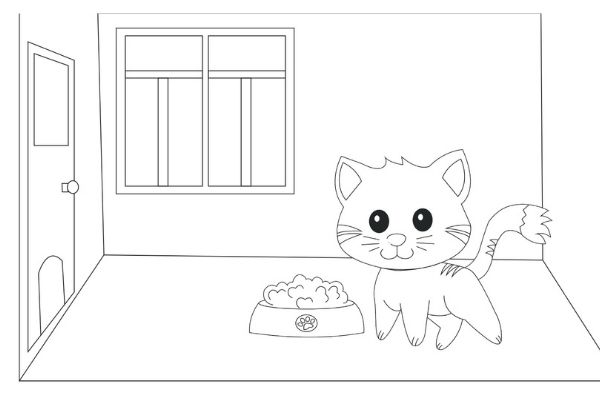 Print this PDF Cat coloring page below:-
If you love these why not try some of my zoo animal coloring pages or my free butterfly coloring sheets
I am hoping to add lots more printable coloring pages to my site soon as I know these alongside my easy crafts for kids provide lots of entertainment for free!
Will you print these Cat Coloring Pages?