Fun and easy Easter crafts for Preschoolers from our friend Cheryl, Preschool Plan It. These Easter crafts are simple and fun – great for the little ones.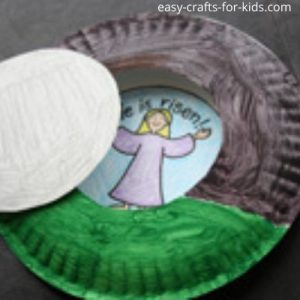 Easter Crafts for Preschoolers
This fruit cup bunny is perfect Easter craft for 3 year olds after they have finished their fruit! You can fill him with treats, either candy or something healthy or even a small toy.
Find out my step by step instructions below:-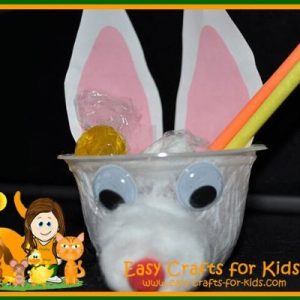 Here are three adorable Easter bunny craft ideas that are nice and easy for the preschoolers.
Easter Bunny Pin:
1.Glue 2 wooden ice cream spoons together at an angle, so that the handles form the bunny's ears.
2.When the glue has dried, paint the spoons white, and sprinkle with glitter (optional).
3.Paint the inside of the ears pink.
4.Glue on 2 googly eyes and a pink pom-pom for the nose.
5.Tie a thin ribbon in a bow just below the ears.
6.Glue or tape on a safety pin to the back and give to someone special to wear for Easter!
3D Easter Bunny:
1.Glue a cotton ball on the back of a large foam egg (or a real one!) for the tail.
2.Glue 2 cotton balls on the bottom front for the two legs.
3.Glue 2 smaller cotton balls on the front near the middle for 2 paws.
4.Glue 2 googly eyes and a pink pom-pom for a nose.
5.With a black marker, draw whiskers on the face.
6.Bend 2 white pipe cleaners in a long 1/2 oval shape for the ears.
7.Bend 2 pink pipe cleaners to fit the inside of the white ones.
8.Stick the pipe cleaners into the top of the foam egg.
9.Voila!
I have lots more Easter Bunny crafts for kids!
Preschool Easter Crafts – Religious
A few fun religious easter crafts for preschoolers from the lovely Miss Cheryl.
Easter Tomb
Get some great religious Easter activities for preschoolers from Miss Cheryl!
1.Cut out hole in center of one paper plate.

2.On back of that plate, paint (or color) the top blue for sky and the bottom Preschool Empty Tomb Craft for Easter green for grass.

3.On another plate, draw an angel in the center with the words "He is Risen!" above him.

4.Cut out a circle out of gray poster board larger than the hole you cut in the paper plate.

5.Use a paper fastener to attach the gray circle to cover the hole in the paper plate.

6.Glue the two paper plates together on the edges.

7.Now you have a cave that you can "roll away" the stone and see the angel proclaiming the good news that Jesus has risen!
Easter Cross:

1.Have children paint or use markers to color 2 large popsicle sticks.

2.Use a piece of yarn to tie the two sticks together, in a cross shape, as pictured to the left.
You really need to check out my Resurrection crafts for Sunday school which will help you tell the Easter story.
A bit More about Miss Cheryl & Preschool Plan It
More Easter Crafts for Preschoolers:
Enjoy these easter crafts for preschoolers from Preschool Plan It? Here's some more ideas for Easter
Easter Crafts
Easter Bunny Costume I love mask crafts like this one
Paper Plate Treat Basket if you want a cute little basket to carry on your Easter egg hunting this is it. It might be too small for large eggs but you can put smaller eggs and candy inside.
Kinder Duck Surprise – do not throw away your empty Kinder shells as you can do some cool animal crafts for kids with them, like my cute duck!
Easy Crafts for Kids is social too! Be sure to join us and keep up to date on what the Crafty Critters are up to:
Do you like these Easter Crafts for Preschoolers?