Lots of little kids will want to show Dad he is number 1 this June with this easy Father's Day Trophy Pop up Card craft.
Get your little ones crafting now to make this cute Father's Day homemade card in time for June 19th!
Why buy a card when you can make a better one. All children think Daddy is their hero and now they can show him he is the best with this trophy card craft.
Previously when my children when toddlers we made Dad his own trophy using a styrofoam cup and some paint. You may want to combine my Father's Day cup craft with this one.
Diy pop up cards is extremely popular in our house. We have made some for every season and holiday of the year. One of our favorites for Father's Day is my dinosaur pop up card which lets Dad know he is roarsome.
They are so easy to make when you use my free template (found at the bottom of the page) and my step by step craft instructions directly below.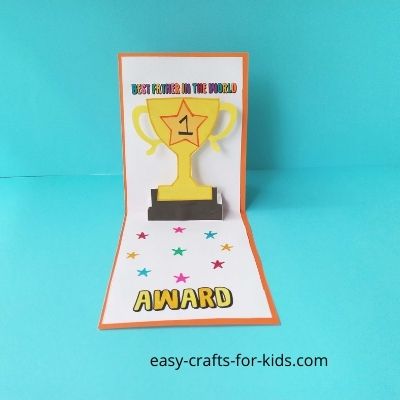 Father's Day Trophy Pop up Card
Lots of little kids will want to show Dad he is number 1 this June with this easy Father's Day Trophy Pop up Card craft
Materials
Cardstock paper.
Craft papers.
Pencil.
Ruler.
Scissors.
Glue.
Marker pens
Instructions
Step 1:
Cut out the pieces for the trophy using the PDF templates.
Step 2:
Write "1" on the middle part of the star using a marker pen.
Step 3:
Glue the star on the trophy.
Step 4:
Glue the handles to the trophy.
Step 5:
Now, glue the base of the trophy on the bottom.
Step 6:
Cut out your card for the trophy using "Card Template,pdf".
Step 7:
Use colorful marker pens to fill in the letters.
Step 8:
Close the card, and draw two horizontal lines on the closed end of the card using a pencil (use the help of "Card Template,pdf".
Step 9:
Cut along the horizontal lines and fold it along the green line of the template.
Step 10:
Open the card.
Step 11:
Glue the trophy on the pop socket.
Step 12:
Draw some stars on the card to decorate it more.
Encourage kids to write a message to Dad on the inside of the card, can be something very simple or more detailed for older kids.
You can also make this for Grandad too and give it on Father's Day or Grandparents Day, whichever you choose.
Easy Father's Day crafts are a great way for kids to show their love for their Daddies as well as keeping them entertained at the same time.
Can you think of any other fun crafts you might do for Dad this year? How about making him a cute planter pot, like a Superman pot, after all he is your Superhero!
Before starting any new crafts please print my free trophy Father's Day pop up card templates below to help this craft:-
Will you make this Father's Day Trophy Pop Up Card?
Hi there, I'm Laura an avid kids crafter with two little ones of my own to keep entertained! I have been doing kids crafts since 2018! Here at Easy Crafts for Kids you can find seasonal crafts for all age groups, as well as drawing tutorials, coloring pages and some other fun printables!