This folded paper fan is an easy craft for kids: simple to make and required very little materials. Make some in different colors and any sizes, and use them to cool off in the hot summer months.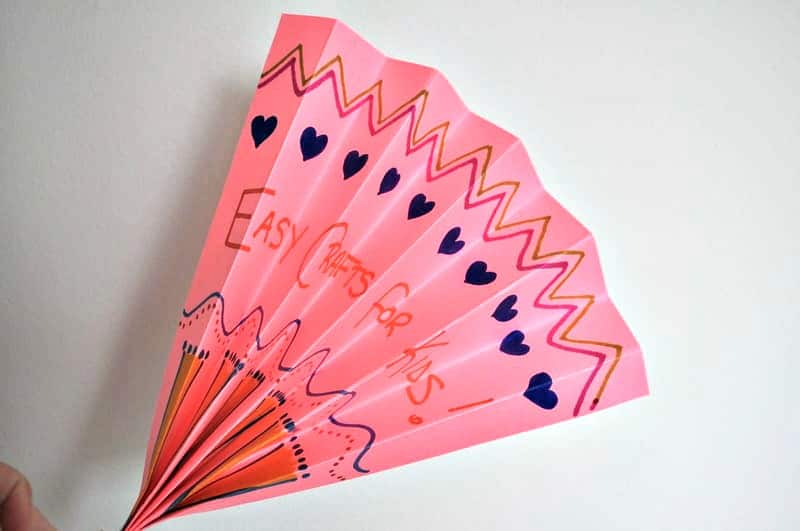 What I like about these folded paper fans is that there's no need for glue or scissors: just some paper, markers (or crayons) and imagination. The littles can have fun all by themselves folding paper and decorating it with lines, hearts and doodles.
If you want to be more environmentally friendly with this craft, just use old newspapers or pieces of paper that mom and dad printed on. THAT will make it even more special for some kids, as they'll enjoy taking something mommy and daddy printed and making it better 😉
If you want a cool Summer themed version then my Watermelon paper fan is perfect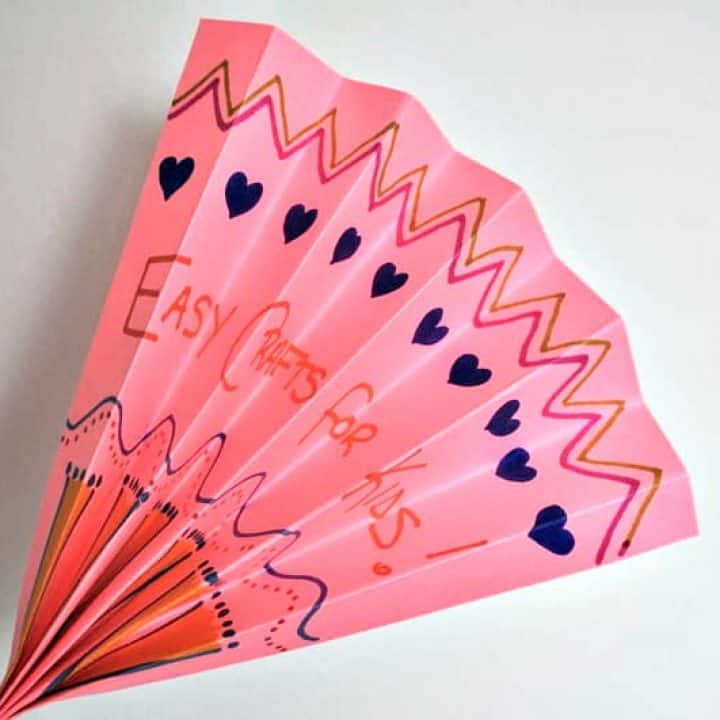 Folded Paper Fan - An Easy Paper Craft
Fun, easy and colorful paper craft childfen will enjoy during the summer months.
Materials
Piece of Paper (sturdier will last longer than regular construction paper)
Tape
Instructions
Step #1: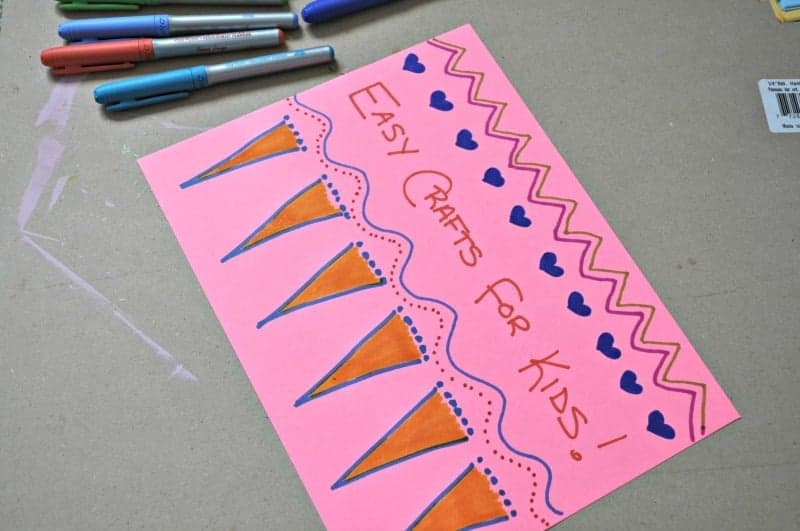 Decorate your piece of paper in your desired design. For this you can use a pencil to draw it out and color them in with crayons, pencil crayons or markers.
If it is for a special holiday, decorate for each holiday and have one for every occasion.
Step #2: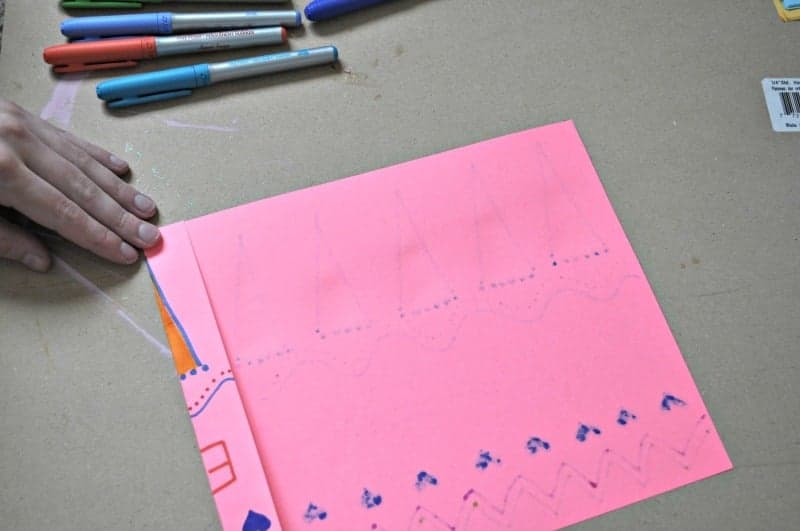 Start at one end of the paper. Fold a one inch crease, and follow that by another one inch crease in the opposite direction. Repeat this until the entire paper is folded.
Step #3: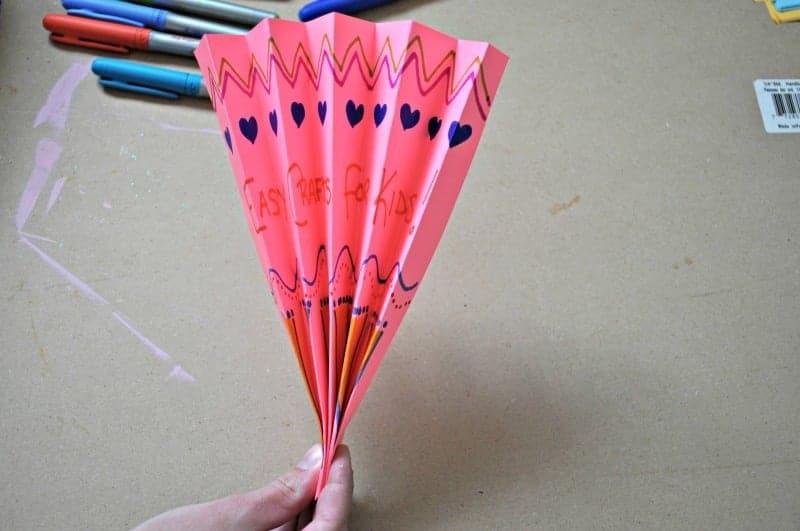 Take one end of the folded paper and pinch it together. This will leave the other end open. Just fan out this end.
Step #4: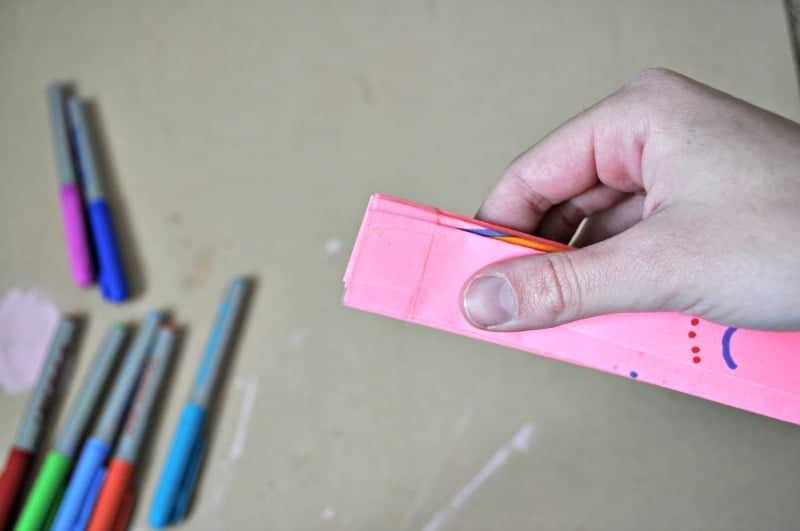 Tape the pinched end together to hold together your fan. You can also just staple this section or tie a string around it - whichever you have available.
Why not create one for everyone in the family – in all colors, and designs. Make one for each occasion, and save on the energy bills by turning off the air conditioning for a while!
To create this easy paper craft in different sizes, you just need to start out by using different sizes of paper. Or, if you used newspaper, you can cut out the fan to a different size after you finish it. You can even cut out scalloped edges.
Want even more fun? Use different types of paper:
construction paper
printer paper
shiny paper
wrapping paper
Add sequins, glitter, sparkly paint or whatever you want to make your paper fan pretty! I must get my 5 year old to make some of these as I know she loves crafting and looking pretty while keeping herself cool in the hot sunshine.
More paper crafts

There is a lot of crafting you can do with paper as your main ingredient – and some with paper as the only ingredient! Here's a few more ideas of our paper crafts for kids:
paper butterfly –I love these pretty butterflies, which could probably double up as a pretty paper fan
Hope you enjoyed all our paper crafts and happy crafting! Summer crafts for kids like this one will keep them entertained all throughout the school holidays.
Will you make a Folded Paper Fan to Keep Yourself Cool this Summer?