We love DIY Halloween decor in our house and this Halloween witch wreath is the perfect paper craft for little kids to make this October.
Every year we put lots of effort into decorating our house for Halloween parties. We make lots of painted pumpkins because my kids are too young to do their own carvings. We also do lots of Halloween paper crafts.
We love crafting and have made lots of cool witch crafts for kids this year including my Pop Up Flying Witch which was especially popular with my 5 year old son!!
We decided to decorate some of the doors in our house this year with wreaths so we made a fabulous DIY Halloween witch wreath.
You can make this too using my free printable template and step by step craft procedure to show you how to make a Halloween witch wreath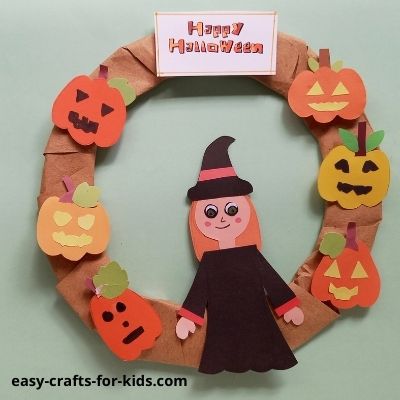 Halloween Witch Wreath Craft
We love DIY Halloween decor in our house and this Halloween witch wreath is the perfect paper craft for little kids to make this October.
Materials
Card stock paper/cardboard.
Colourful craft paper.
Glue.
Tape.
Scissors.
Pencil.
Ruler.
Marker pens.
Brown wrapping paper.
Instructions
Step 1:

Cut out your wreath base using card stock or cardboard.
Step 2:

Take a long strip of brown paper (3-4 cm width).

Start wrapping the brown paper around your wreath.

Step 3:

Wrap the whole wreath base using the brown paper and secure the wrap using tape.
Step 4:

Cut out the pumpkins from the templates.

Step 5:

Glue the pumpkin's stem and leaves to the pumpkin.
Step 6:

Similarly make more pumpkins in different colors.

Step 7:

Draw or glue faces on the pumpkins using craft papers and marker pens.
Step 8:

Cut out the witch from the template.

Step 9:

First glue the body to the witch's head.
Step 10:

Then glue the hair on the back of the head and then, glue the hands to the sleeves.

Step 11:

Glue the sleeves and dress to the body.

Step 12:

Draw the witch's face and glue the eyes from the template.
Step 13:

Then finally glue the laces on the sleeves and hat.

Step 14:

Now take the pumpkins and glue them around the wreath.
Step 15:

Finally glue the witch on the bottom part of the wreath to finish your Halloween witch wreath craft.
Where will you hang your wreath craft for kids? Will you put it on a wall or hang it on your bedroom door? Perhaps you will make several and give some to your friends.
Another great suggestion is to add magnets to the back and hang it on your fridge!! Give someone a fright or maybe put them off from eating everything inside! This is definitely an awesome Halloween magnet craft.
If you like DIY witch wreath why not try and make my cute Halloween mobile
You can also do your house up with one of my great luminaries including my cat lantern craft or if you prefer something more spooky my Haunted House Luminary
Please use your free printable Witch craft template before to help you decorate your wreath.
Halloween Witch Wreath Decor Template
Do you like this Halloween Witch Wreath Craft?
Hi there, I'm Laura an avid kids crafter with two little ones of my own to keep entertained! I have been doing kids crafts since 2018! Here at Easy Crafts for Kids you can find seasonal crafts for all age groups, as well as drawing tutorials, coloring pages and some other fun printables!