Who says you have to display a Jack O Lantern in your porch this Halloween?! Why not display my cat lantern craft instead.
During October people are doing lots of different Halloween crafts featuring witches, monsters, zombies, spiders, pumpkins and of course black cats!
Black cats are said to be lucky so if you do not have a pet cat why not make one of my cute cat luminary crafts and display it in your porch or on a windowsill.
My Halloween cat craft with toilet paper roll can also be made at the same time if you want to do a black cat craft themed day!
If you are doing this craft at another time of the year why not combine it with some of my other best cat crafts for kids.
Of course you can use this all year but I think it looks best during Halloween. Even better if you are planning on having a Halloween party and are looking for lots of decorations to make your house more spooky! My haunted house lantern craft is another great idea!
Please find my step by step instructions to help you make this paper Halloween cat lantern craft below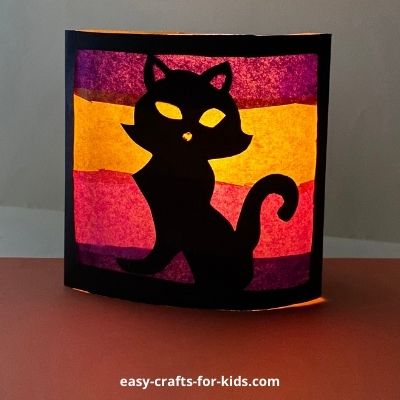 Cat Lantern Craft for Halloween
This cat lantern craft for kids is the perfect Halloween decor for your home this October.
Materials
1. Black cardstock Paper.
2. Colourful Tissue Papers.
3. Pencil.
4. Scissors.
5. Ruler.
6. Glue.
Instructions
Step 1:
Cut out all the pieces to make your cat lantern from the PDF templates.

Step 2:

Take a white tissue paper according to the size of the square-shaped gap on the template.

Start gluing the colourful tissue papers on the white tissue paper.


Step 3:

Fill up the white tissue paper using the pieces of colourful tissue papers.

Step 4:

Glue the cat silhouette from the template in the middle of the tissue paper.



Step 5:

Now join the colourful tissue paper piece to the back of the gap using craft glue.


Step 6:

Apply glue on one end of the cardstock.


Step 7:

Then join both ends together to finish your cat luminary craft.
You can put a tealight inside to make it glow!












Would you change the colors in my lantern cat or would you add anything else to it?
I have lots of other great easy Halloween crafts for kids to keep you busy all of October! Find Halloween pop up cards, lots of witch crafts, ghosts, spiders, monsters and more!
The free printable template below provides the outline shape for the cat
Can you think of some other animals you would like to use for lantern crafts? You could make one for all the animals you can think of! How about doing a chick lantern for Spring and a turkey lantern for Thanksgiving?!
If you want even more kitty fun then why not complete my cat coloring pages
Do you like this Cat Lantern Craft for Halloween?
Hi there, I'm Laura an avid kids crafter with two little ones of my own to keep entertained! I have been doing kids crafts since 2018! Here at Easy Crafts for Kids you can find seasonal crafts for all age groups, as well as drawing tutorials, coloring pages and some other fun printables!