Thanksgiving is coming and of course that means time for turkey! My how to draw a turkey step by step tutorial is perfect for kids this November!
This turkey picture may look difficult but when you break it down into individual steps it is very simple! Who wants to draw a simple turkey?! This is just one of my fun turkey crafts and activities for kids this year.
You can use your drawing for the front of a Thanksgiving card or for a poster for your wall. Why not have a competition and see who can draw the best turkey the quickest!
What you need for this Turkey Drawing Easy
I love the fact that you do not need lots of materials to draw an easy turkey; 5 to be exact! Quite often you will already have all of these at home, so it makes it good for a quick last-minute activity.
Drawing Book (you can store all your drawings here)
Pencil, preferably Hb
Color pencil/Crayon/Marker Pen.
Ruler.
Eraser.
Why does this easy Turkey Drawing Activity Rock
So why do I love this Thanksgiving drawing?! I was never any good at drawing until I started breaking things down into simple steps! We do everything step by step here on Easy Crafts for Kids!
This easy turkey drawing tutorial has only 20 easy steps.
Suitable for kids as well as adults
You can do it over and over again until you become a perfectionist. Why not change it up each time!! You can alter the colors you use
Perfect learning theme for school!
Why not use it for the front of a Thanksgiving card or use it for a name holder for Thanksgiving dinner!
Draw lots of turkeys or photocopy the one you drew and attach them to make a turkey garland – perfect Thanksgiving decor!
Easy To Draw Turkey Instructions
If you want to know how to draw a turkey easy then check out my free drawing tutorial below. These are printable instructions which you can use over and over again.
My images can help the littlest kids follow along. Perhaps Mom wants to do a simple turkey drawing and children can copy. This can also be used in the classroom. The teacher can do the individual steps on the whiteboard and ask the class to follow along.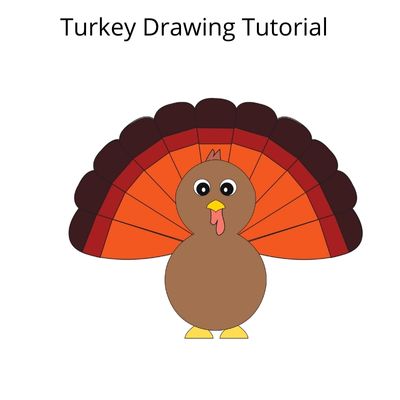 How to Draw a Turkey Step By Step
My how to draw a turkey step by step tutorial is perfect for kids this November.
Materials
Drawing Book.
Pencil.
Color pencil/Crayon/MarkerPen..
Ruler.
Eraser.
Instructions
Step 1:
First draw a circle for the turkey's head.
Step 2:
Then draw another circle below the first circle slightly overlapping it with the first circle. This will be the turkey's body.
Step 3:
Erase the overlapped lines using a pencil eraser.
Step 4:
Draw two triangular shapes on the bottom side of the large circle as the turkey's feet.
Step 5
Draw the beam shape on the centre of the top circle. Your turkey drawing should now look like this.
Step 6:
Draw two circular shales on the top part of the small circle as the turkey's eyes.
Step 7:
Draw the pupil of the eyes and your turkey portrait should look as below.
Step 8:
Then, draw the turkey's comb on the top of it's head.
Step 9:
Draw two extended curved lines from both sides of the turkey's body.
Step 10:
Then draw a large half circular line joining the two curved lines ends together.
Step 11:
Draw equal distant dots on the half circular shapes.
Step 12:
Then, draw lines from the dots to the turkey's back drawing the turkey's wings.

Erase the small lines in between each dots to make the wings appear curvy.
Step 13:
Draw two small lines on the top part of each feather keeping a small gap.
Step 14:
Draw the turkey's wattle below the beak.
Step 15:
Fill in the turkey's body using brown colour.
Step 16:
Color the feet using yellow color.
Step 17:
Colour the wattle using a light coral shade.
Step 18:
Colour the turkey's comb using a slightly darker brown shade.
Step 19:
Colour the bottom parts of the feathers using orange paint.
Step 20:
Then colour the rest of the feathers using dark red and dark brown colors.

You can color the turkey whatever colors you wish.

If this turkey drawing easy has got you in the Thanksgiving spirit, then you may want to try to make my turkey paper bag puppet or my turkey pop up card.
For those who want even more Thanksgiving fun, why not complete some of my cute turkey coloring pages
Do you now know how to draw a turkey step by step?
Hi there, I'm Laura an avid kids crafter with two little ones of my own to keep entertained! I have been doing kids crafts since 2018! Here at Easy Crafts for Kids you can find seasonal crafts for all age groups, as well as drawing tutorials, coloring pages and some other fun printables!