Paper plate crafts for kids are one of the best art and activities for kids of all ages. You can make anything you want from a paper plate.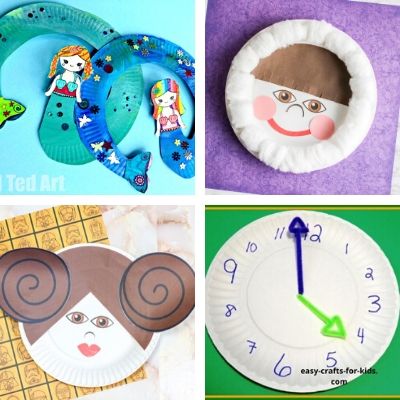 My children have loved decorating paper plates from an early age! A toddler can make handprints or footprints on one and use it as a keepsake.
Older kids might want to cut plates and stick things onto them. They can create people, places and decorations.
I have ideas for every single season of the year!! Please check out my new Halloween paper plate crafts and a few Christmas ones too.
Previously I have made lots of animals from paper plates and played pretend zoo with my kids!
Paper Plate Crafts for Kids
Paper plate crafts for kids are hugely popular! It is amazing what you can make from a plain white paper plate! Let me show you!

What will you do with your completed craft? Little kids like to play with theirs or give them as gifts to grandparents.
Older kids like to display theirs on the wall or in their bedrooms.
They can be used as house decor or for a party or celebration.
Whatever you choose to do, I know your kids will have lots of fun with the ideas I have shared here.
I have tons more easy crafts for children including these:-
30+ Toilet Paper Roll Crafts – these will keep you going for over a month!
10+ Egg Carton Crafts for Kids – make some cute animals as well as a treasure chest
Do you like these Paper Plate Crafts for Kids?