This Scarecrow puppet craft with popsicle stick is perfect for Autumn. These are awesome for pretend play as are all my puppet crafts!
Fall is the perfect time to go scarecrow hunting! Normally you can find them in fields full of crops! Whilst they may look great there, they are actually there to help fend off birds from eating the produce.
In any case kids love them and they go looking for them all throughout Fall! I remember finding them at pumpkin patches when I was little and admiring how they were all dressed in old clothes!
My Scarecrow paper craft helps you make a clever puppet on a stick that you can use for story telling afterwards! Why not use him alongside some of my other great puppets including my pig and piglet craft with popsicle sticks or my sheep family craft.
I am sure Mr Scarecrow is used to being friendly to animals since he also lives in a field! Anyhow enough of my story telling and onto the actual craft.
This is a Fall paper craft which can be put together in less than 10 steps using my procedure below and free printable template.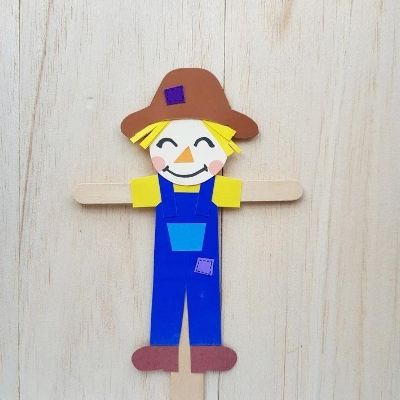 Scarecrow Puppet Craft with Popsicle Stick
This Scarecrow craft with popsicle stick is the best Fall paper craft for kids!
Materials
1. Colored craft papers (yellow, 2 shades of blue and brown_
2. Craft glue
3. Popsicle stick
4. Pencil
5. Scissors
6. Sharpie
Instructions
Step 1:

Print off your templates and have them to hand.

Select colored craft papers for the scarecrow puppet craft with popsicle stick. Trace the template patterns on the papers and cut them out nicely.

Obviously you can choose whatever colors you wish for your scarecrow.

Step 2:

Grab the shirt and overall patterns. Stick the overall pattern with the shirt pattern by overlapping the bottom half of the shirt with the top side of the overall pattern.

Step 3:

Stick the strips and the pocket of the overall.

Step 4:

Stick the shoes on the bottom side (leg parts) of the overall pattern.

Step 5:


Grab the round pattern (head) and the small strips (hair). Stick the strips on the top side of the head pattern. My scarecrow has blonde hair but he can have orange or brown hair.

Step 6:

Cut slit along the line inside the hat pattern.

Step 7:

Slide the top side of the head through the slit of the hat from the bottom end. Attach the nose and the blush patterns of the scarecrow. Use a sharpie to draw the eyes and mouth of the scarecrow.

Step 8:

Stick the head pattern on the top side of the shirt pattern.

Step 9:

Attach the paper scarecrow craft on a popsicle stick to represent arms to finish the craft.





I have an immense number of paper crafts for children on this site as well as some general Fall crafts. I have shown some of my favorites below.
Thanksgiving Pumpkin Craft for Preschoolers – Make a paper pumpkin from orange paper
Fall Leaf Monster – ideal for Halloween or Fall
Before you go please remember to print your free PDF Template
Do you like this Scarecrow Puppet Craft with Popsicle Stick?
Hi there, I'm Laura an avid kids crafter with two little ones of my own to keep entertained! I have been doing kids crafts since 2018! Here at Easy Crafts for Kids you can find seasonal crafts for all age groups, as well as drawing tutorials, coloring pages and some other fun printables!