Springtime is here and there is no better time to explore my fabulous toilet paper roll Easter crafts for kids. Easter is about more than chocolate eggs!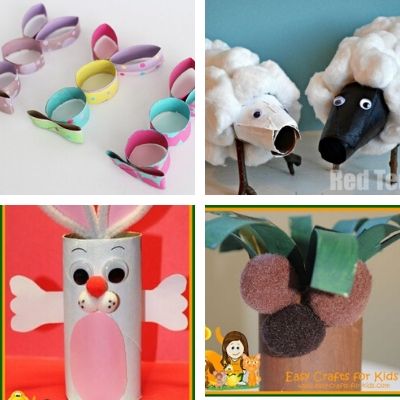 The longer days and better weather mean that children can get outdoors to explore!
New life in the form of chicks, lambs and Easter bunnies arise also.
My kids love animal crafts especially my long list of cute Easter chick crafts and paper plate animal crafts!
Since we have an abundance of toilet paper rolls I thought there would be no better time to use these for some crafting with my kiddies before they get their Easter holidays from school!
If you want my complete list you can find all my Toilet Paper Roll Crafts right on this site!
Toilet Paper Roll Easter Crafts
These toilet paper roll Easter crafts suit preschool kids and older! They are a quick fun craft that can be used for pretend play!

These toilet paper roll Easter crafts are look fabulous and can be used as tiny puppets for pretend play after the fun of making them has passed!
Why not make them in lots of different colors and encourage your kids to give them all names!
If you like my collection of Easter crafts made from paper rolls you might like the ones I have done for other seasons too:-
Halloween Toilet Paper Roll Crafts – we use toilet roll all year long so many as well make use of them during Halloween
Toilet Paper Roll Leprechaun – lucky guy for St Patricks
Toilet Paper Roll Valentine Crafts – make a treat holder for your friend
Do you like these Toilet Paper Roll Easter Crafts?