With Thanksgiving just around the corner there is no better time to DIY this cute turkey pop up card for kids!
Everyone likes to send their greetings to friends at Thanksgiving. There is no better time of the year to tell someone how much you appreciate them or how grateful you are for something they have done for you.
Turkeys are everywhere during Fall, especially on your dining table, yum yum!
A turkey pop card for Thanksgiving is such a neat craft idea for kids this Fall!
In our house we love making turkey crafts for Thanksgiving and are always expanding our list of ideas.
My handprint turkey is always hugely popular in the weeks leading up to Thanksgiving as is my turkey puppet
My DIY Pop up cards are always hugely popular with kids and adults alike!
This paper craft will help you DIY your own Thanksgiving pop up card with an adorable turkey inside! My step by step craft procedure with images and a free printable template ensures Mom and kids can complete this craft easily.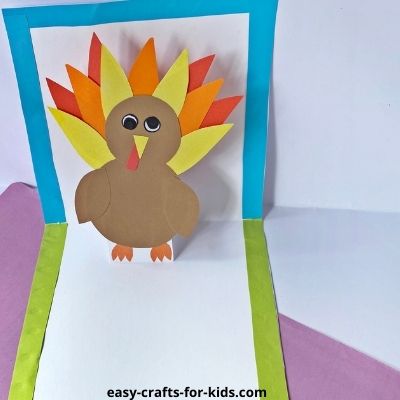 DIY Thanksgiving Turkey Pop Up Card for Kids
This DIY Thanksgiving turkey pop up card is the perfect activity for kids this Fall
Materials
Cardstock Paper.
Craft Papers.
Pencil.
Ruler.
Scissors.
Glue.
Marker Pens.
Instructions
Step 1:
First, you need to gather all the supplies and print out the PDF templates to make your turkey pop up card.

Use the templates to cut out the pieces to make the turkey.
Step 2:
Join the beak and wattle to the head using craft glue.

And, glue the wings to the body.
Step 3:
Join the head to the body using glue.
Step 4:
First glue the small feathers on the back (yellow feathers) leave a little gap in between each feather.
Step 5:
Glue the rest of the feathers on the back of the turkey.

Allow the glue to dry.
Step 6:
Now glue the eyes on the top part of the face and then glue the feet on the bottom.
Step 7:
Select your card paper.

Fold it in half.
Step 8:
Use the "Card Template" to cut the slot on the pop-up card.
Step 9:
Press the slot/tab inwards of the card.
Step 10:
Open up your card and it should look like the image below
Step 11:
Then, glue the turkey onto the tab on the card
Step 12:
Use colourful craft papers to decorate the borders of the card. You can choose whatever colors you wish or perhaps you might want to add polka dots, zig zags or whatever else takes your fancy.
Will you send your card to a friend to wish them Happy Thanksgiving?! This is the message I put inside the card but of course you can change the greeting.
I love letting my kids write their own message because it is so personal to the receiver and secondly is a great opportunity for them to practice their writing skills and sentence building.
You could even use this an invitation for Thanksgiving dinner! Why not make some DIY Thanksgiving napkin rings to decorate your table for your guests.
You will find the 2 free printable PDF templates below very helpful:-
Do you like this Thanksgiving Turkey Pop up Card?
Hi there, I'm Laura an avid kids crafter with two little ones of my own to keep entertained! I have been doing kids crafts since 2018! Here at Easy Crafts for Kids you can find seasonal crafts for all age groups, as well as drawing tutorials, coloring pages and some other fun printables!