Easy spider crafts are perfect for dull Spring days, or even coming up to Halloween. Why not use some of these ideas to give something a fright on Halloween night!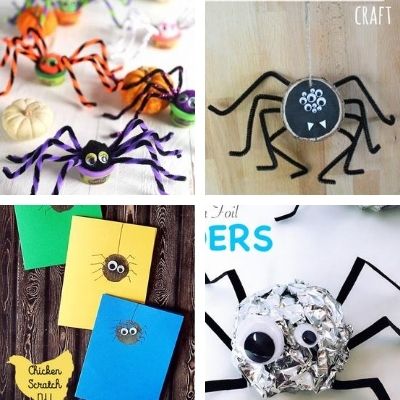 One of the creatures I see almost everyday, if not several times a day is a spider! My kids love chasing them around so I knew I had to get a list of awesome easy spider crafts for them to do whenever there are no creepy crawlers to play with.
These make great Halloween decor for your fancy dress party, plus they will not run away when chased!
These 8 legged critters can be made from toilet paper rolls, egg cartons, pom poms and other commonly used craft supplies.
Easy Spider Crafts
These easy spider crafts are perfect for creating lots of the 8 legged creepy crawly. Ideal for Spring or Halloween and an animal learning theme at anytime of the year.

Which is your favorite spider craft?! I like all of them and hopefully will have some more soon!
If you like these you will want to check out my other Halloween crafts for kids.
Have you any other Easy Spider Crafts that are not listed here?