Get into the mood of Spring with this cheerful honey bee with moving wings craft, which is perfect for little kids who like to be creative and use their imaginations. This is one of my favorite honeybee crafts and is suitable for preschoolers!
I love the days getting longer and the absence of dark evenings as it means the kids and I can go for walks after school, and admire the appearance of pretty flowers and buzzing bees.
Bees are everywhere and my children enjoy watching them fly from flower to flower. We have so many easy honey bee crafts for Spring.
This honey bee with moving wings looks as if it is ready to fly and catch some pollen.
Of course I already have a moving bee craft puppet in my adorable Spring paper plate craft below
Follow my easy honey bee craft instructions with step by step images to help you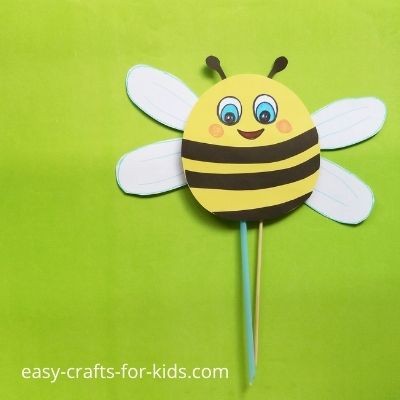 Honey Bee with Moving Wings Craft
This honey bee with moving wings is a simple paper craft for kids this Spring.
Materials
Colourful Cardstock Papers.
Craft Papers.
Pencil.
Ruler.
Scissors.
Glue.
Marker pens.
Drinking Straws.
Sticks.
Instructions
Step 1:
Gather the listed supplies and print out the PDF template. I have included template in both black and white, and color so you can choose whichever is easiest.

Cut out the parts to make your bee from the PDF template.
Step 2:
Glue the bee's black stripes to its body.
Step 3:
Then, glue the bee's eyes on top.
Step 4:
Now, glue the bee's antennas on top of the bee's head.
Step 5:
Then use colourful marker pens to draw the cheeks and the mouth on the bee.
Step 6:
Use sticky tapes to join the wings on top of a drinking straw.
Step 7:
Glue a strip of cardstock paper on the back of the bee, then put the drinking straw through the middle part of the strip.
Step 8:
Glue a long stick on the back of the bee to move your bee.
Can you ask your children what other insects they could make that might fly through the air? How about a butterfly? Butterfly crafts are one of my most popular Spring activities for children.
Of course there are others such as flies and ladybugs. Speaking of which why not use a walnut shell for my easy ladybug craft
Please print my free printable honey bee template to enable you to recreate this craft:-
Flying Bee Template Black/White
Do you like this Honey Bee with Moving Wings Craft?
Hi there, I'm Laura an avid kids crafter with two little ones of my own to keep entertained! I have been doing kids crafts since 2018! Here at Easy Crafts for Kids you can find seasonal crafts for all age groups, as well as drawing tutorials, coloring pages and some other fun printables!