My easy craft tutorial shows kids how to make a Chick Pop up Card for Easter! This is a cute Easter paper craft with easy to follow instructions and images to guide you.
Easter is a time when lots of new life appears. Everyone loves to think about bunnies, lambs and of course newly hatched chicks!
I love my large collection of chick crafts for kids. Let's face it all little kids love chicks as soon as Spring comes around.
This chick in a basket pop up card is great Easter card to make to send greetings. It would also be brilliant to give this as a new baby card for those born during the Easter period.
I have made a few other Easter pop up cards, shown below. You can learn how to make a Easter bunny card or a religious Easter pop up card if you prefer these over the chick!
Why not make one of each and send them to a few friends.
My chick card craft process with images will help Mum and kids create this easy Easter pop up card.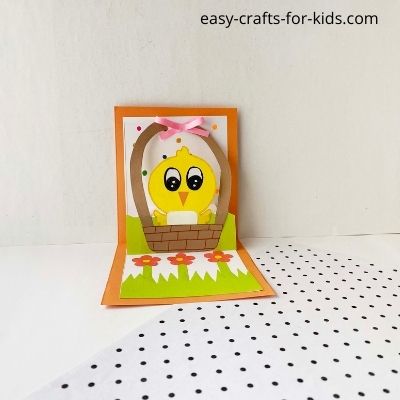 How to Make a Chick Pop up Card for Easter
My easy craft tutorial shows kids how to make a Chick Pop up Card for Easter! It comes with free printable templates and simple instructions
Materials
Cardstock paper.
Craft papers.
Pencil.
Ruler.
Scissors.
Glue.
Marker pens.
Instructions
Step 1:
Cut out the pieces for the Chick pop-up card from the template.
Step 2:
Glue the flowers' stigmas.
Step 3:
Then, glue the stems to the flowers. We are using these to create a pretty Spring garden.
Step 4:
Glue the chick's eyes and beak.
Step 5:
Then, glue the chest part. The chick will look as the picture below.
Step 6:
Prepare your card.
Step 7:
Draw two vertical lines on the closed end of the card as shown below
Step 8:
Cut along the vertical lines.
Step 9:
Open up the card.
Step 10:
Fold the cut out part inwards and this will create the pop-up socket.
Step 11:
Glue the grass on the pop socket.
Step 12:
Then draw some colourful polka dots on the background of the card. Little kids can make these by dipping their fingertip in paint and touching the card afterwards.

Alternatively you can just use bright colorful markers.
Step 13:
Glue the chick to the basket.
Step 14:
Glue the basket's handle.
Step 15:
Glue the basket on the pop socket over the grass.
Step 16:
Glue the flowers on the card.
Step 17:
Then, glue the grass on the bottom of the flowers.
Step 18:
Select a cover for your card. You can pick whatever color you wish.
Step 19:
Glue the card's cover and glue a paper strip bow on the basket's handle.

As you can see from the instructions little kids will be able to make this chicken card craft with some assistance. It is good for them to stick things together.
Why not encourage school age kids to write their own greeting on the card? Great for creativity and writing practice.
Would you add anything else extra to this card craft? How about some small eggs at the bottom of the basket?!
Please remember to print PDFs to help you make this Easter chick card; you can choose from a black/white template or one in color:-
Chick Pop Up Card Template Blk/White
Chicken Pop up Card Template Color
Will you and the kids make a Chick Pop up Card this Easter?
Hi there, I'm Laura an avid kids crafter with two little ones of my own to keep entertained! I have been doing kids crafts since 2018! Here at Easy Crafts for Kids you can find seasonal crafts for all age groups, as well as drawing tutorials, coloring pages and some other fun printables!