Spring is when new life reaps, and these cute Easter chick crafts are perfect for this time of the year.
My kids love watching the hens but they love it even better when the eggs hatch and the tiny chicks are born, normally during March/April time! We live near several farms so we get to appreciate this!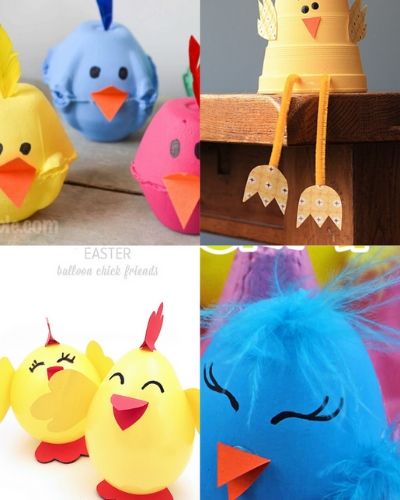 There are stacks of chick crafts for kids, like my Spring chick who is super simple to make!! My kids love playing with him afterwards.
Get stuck into these suggestions, which I plan to add too as I come across more chick Easter crafts for kids!
We have every type of activity imaginable and something to suit all age ranges, whether it is handprint art or a sewing activity!
There are so many ways to make a chick using common craft materials.
15+ Cute Easter Chick Crafts
These cute Easter chick crafts for kids will keep them busy during the Spring months and over the Easter holidays! They will be able to use most of them for pretend play and house decor. Perhaps your little children might want to give some away as gifts to Grandparents.

What will you do with your cute Easter chicks? Will you let your kids proudly display them in their bedrooms (my 4 year old refuses to part with her favorite crafts), or will you gift them to relatives?!
These little chicks are my kids favorite Easter animal so I am guessing we will be doing one of these crafts daily for several weeks in the lead up to Easter!
If I give mine away I always make sure to take lots of pictures of them so I can remember what they looked like! Please tell me which one is your favorite!
If you like these Easter Chick Crafts you will enjoy some of my other Spring crafts
Toilet Paper Roll Easter Bunny – everyone needs an Easter bunny in their life!
Spring Pencil Toppers – decorate your pencils for Spring
How about some making pipe cleaner Spring magnets? If pipe cleaner crafts are your thing you might like my pipe cleaner butterfly.
Do you have any more Easter Chick Crafts?