October is with us and that can only mean one thing, counting down to Halloween and then Thanksgiving!! My easy tutorial on how to make a Halloween origami pumpkin 3D will keep kids entertained!
These little pumpkins make a great center-piece for Thanksgiving dinner. My 3D origami pumpkin instructions are simple to follow!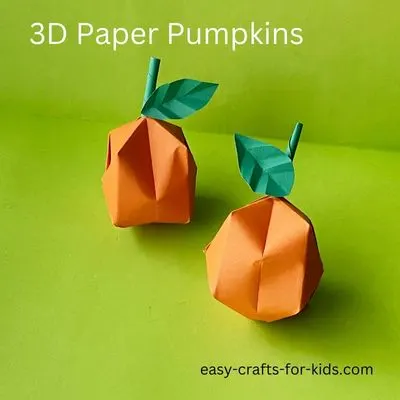 Origami Pumpkin Easy
Pumpkin crafts are huge in October. To be honest my kids and I normally do not make many faux pumpkins instead we spend our time carving real pumpkins to make neat Jack O Lanterns.
This year I said we would maybe spend some more time doing pumpkin stuff! Previously we have made walnut pumpkins and egg carton pumpkins. These make great October crafts for preschoolers.
I realised I had nothing for older kids to make and while I thought about making a pumpkin pop up card it suddenly occurred to me that children love origami. I mean my Halloween origami is such a huge hit, it only made sense to add some pumpkin origami to my collection.
This is also one of my favorite crafts for November this year because it is relatively new and I am so proud to have completed it!
What do you need to Make this Origami 3D Pumpkin
This particular pumpkin origami is 3D which means it is a little more difficult to make. The good news is unlike some of my other crafts this one does not require many materials.
You need origami craft paper and colorful craft papers.
You also need glue, scissors, pencil and ruler, all of which you probably already have!
All in all, this is a relatively cheap craft to complete but it will take a while to do so! I recommend this for older kids who can follow a large set of instructions.
There are lots of different steps, a mammoth 25 in total so make sure you have plenty of time to spare. I would also recommend spare craft papers incase you have to start over.
My how to make a 3D origami pumpkin step by step tutorial below will guide you.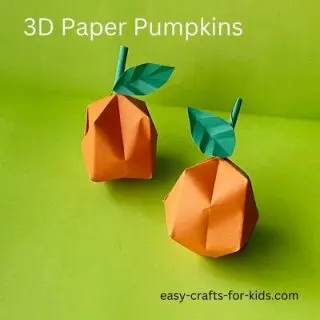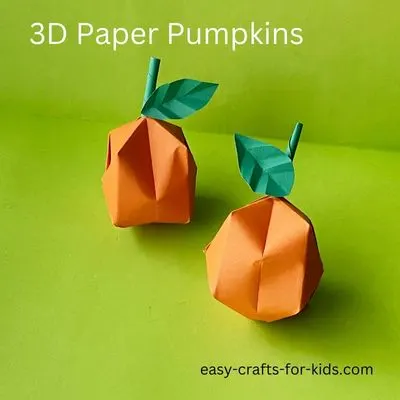 How to Make an Origami Pumpkin 3D
My easy tutorial on how to make an origami pumpkin 3D will keep kids entertained! These little pumpkins make a great center-piece for Thanksgiving dinner.
Materials
Origami craft paper.
Colorful craft papers.
Pencil.
Ruler.
Scissors.
Glue.
Instructions
Step 1:
Take a square orange origami paper.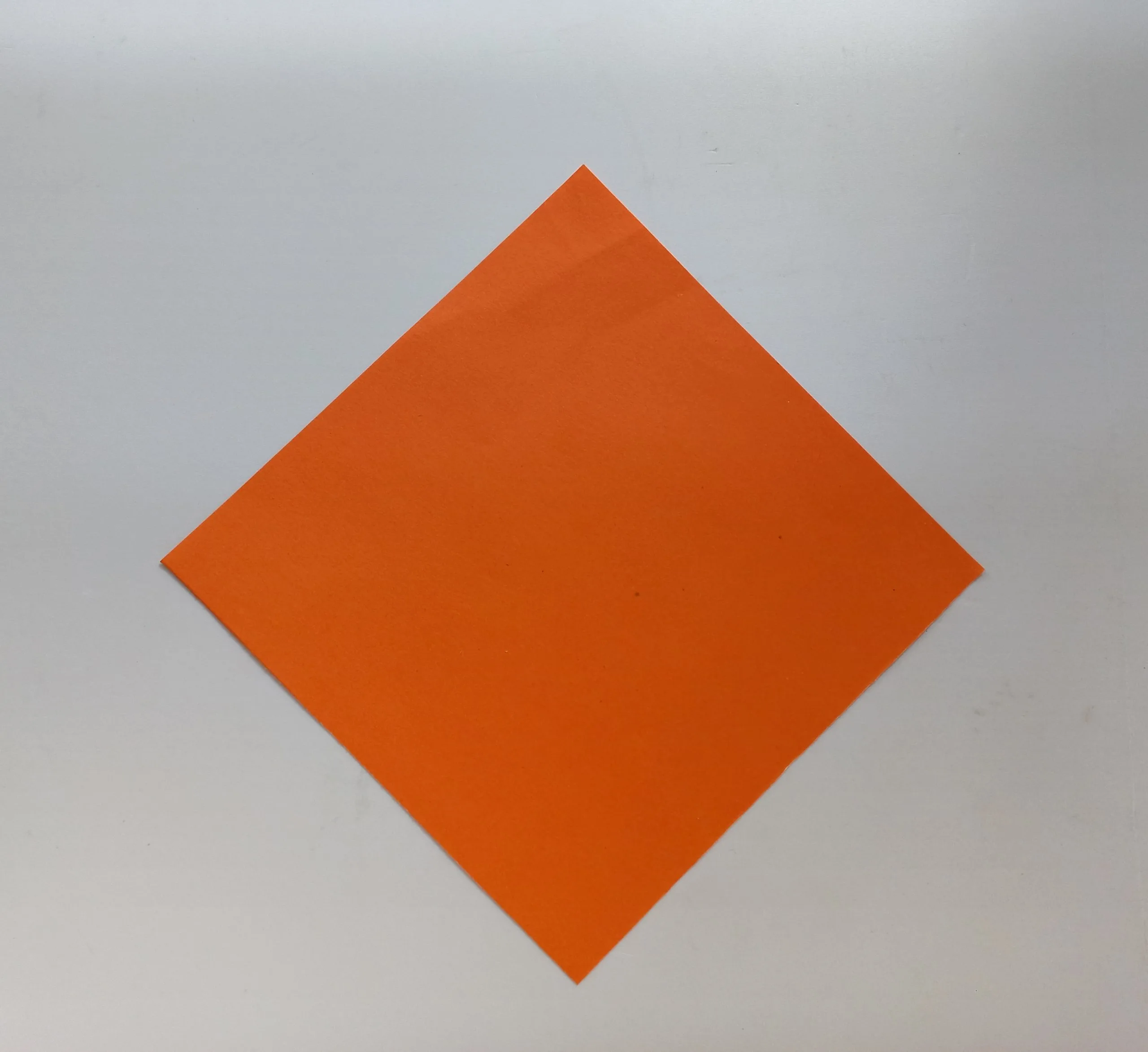 Step 2:
Fold it diagonally in half.
Step 3:
Open the fold and you will see the creases as below.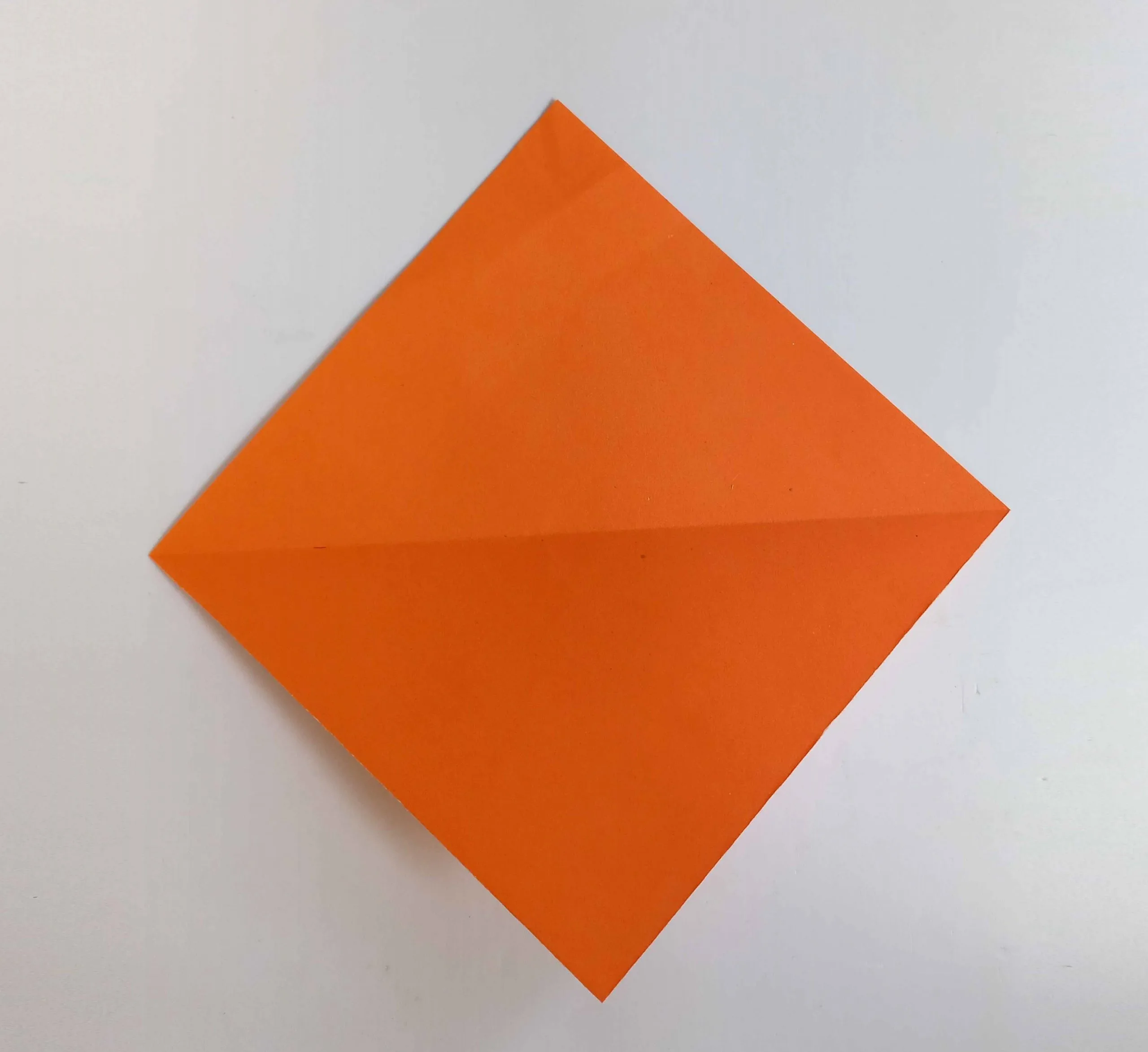 Step 4:
Fold it again vertically in half.
Step 5:
Open the fold again. You can see the lines as below provided you have folded it correctly. If not, take another piece of origami paper and start again.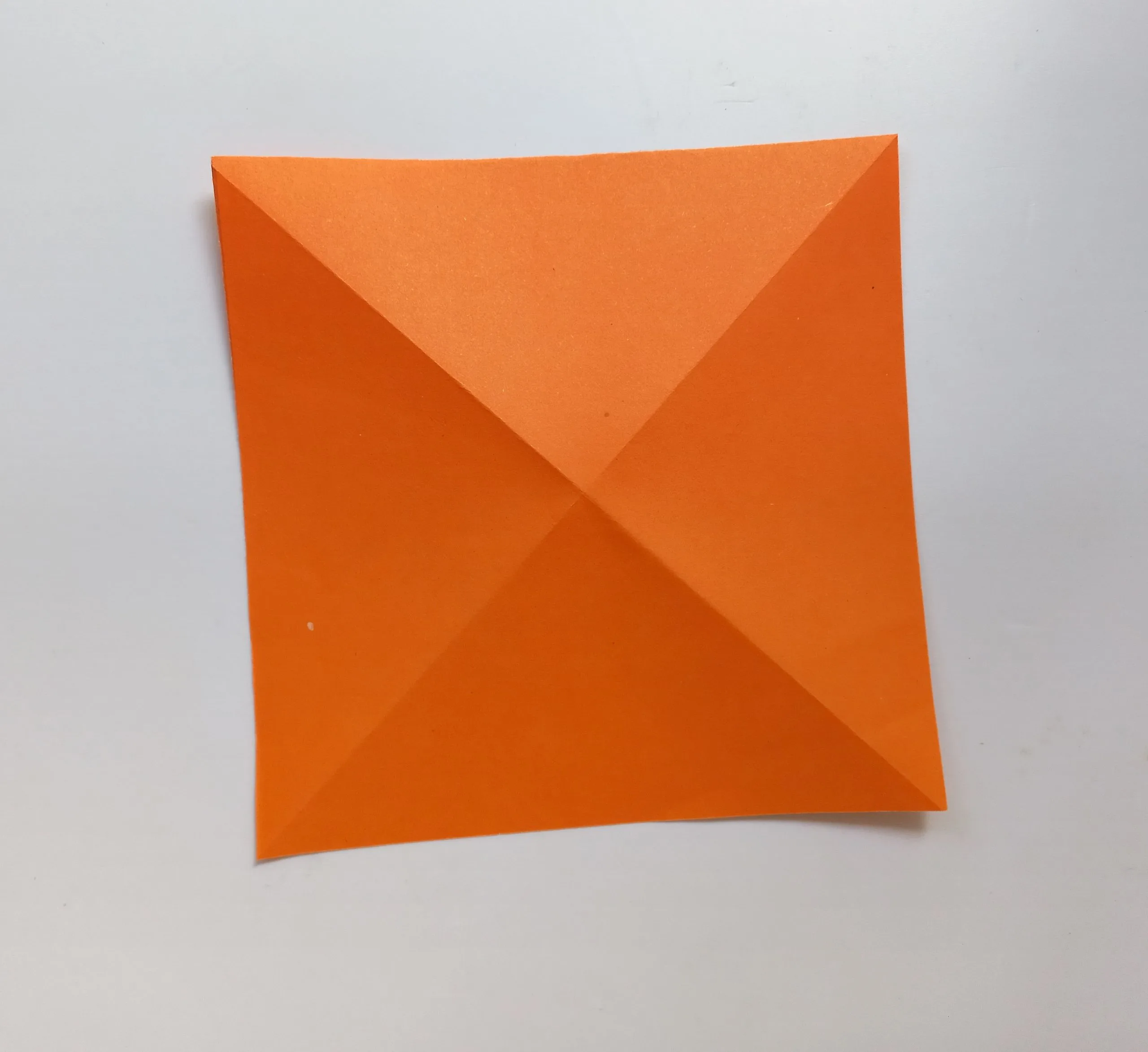 Step 6:
Now, fold the paper in the middle as shown.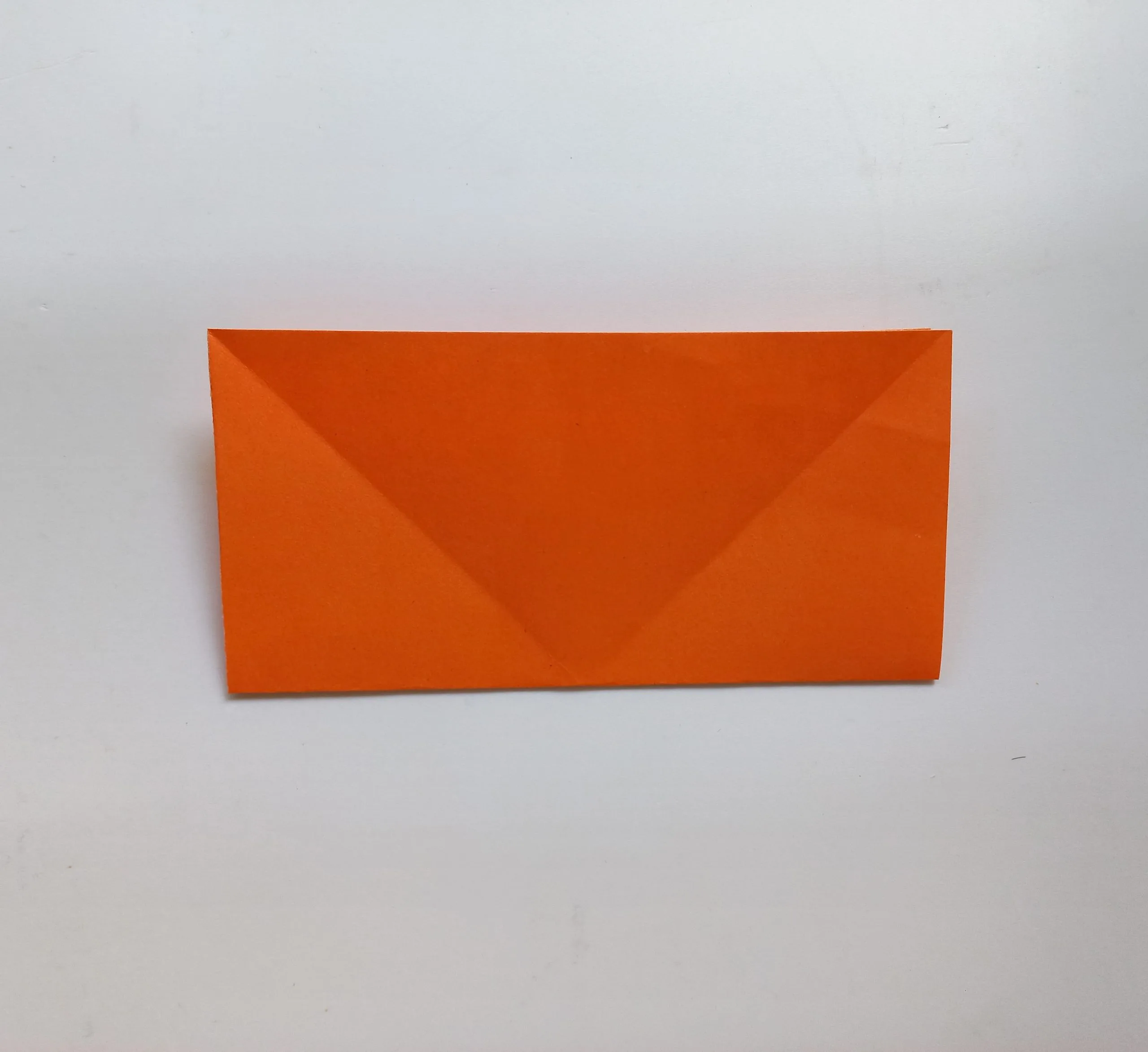 Step 7:
Open the fold and you will see how your origami pumpkin is coming along.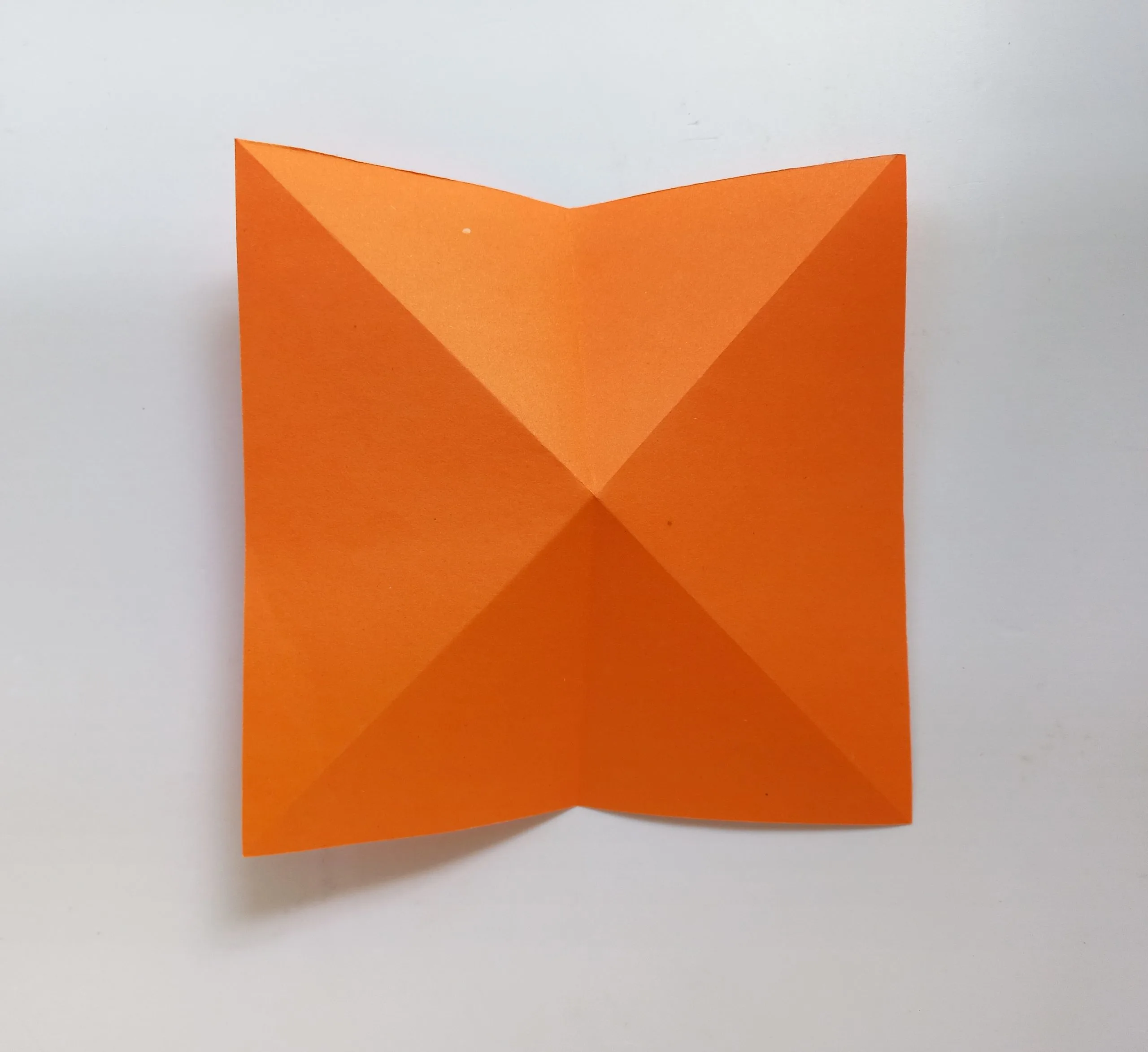 Step 8:
Fold the paper along with the creases we made in the previous steps.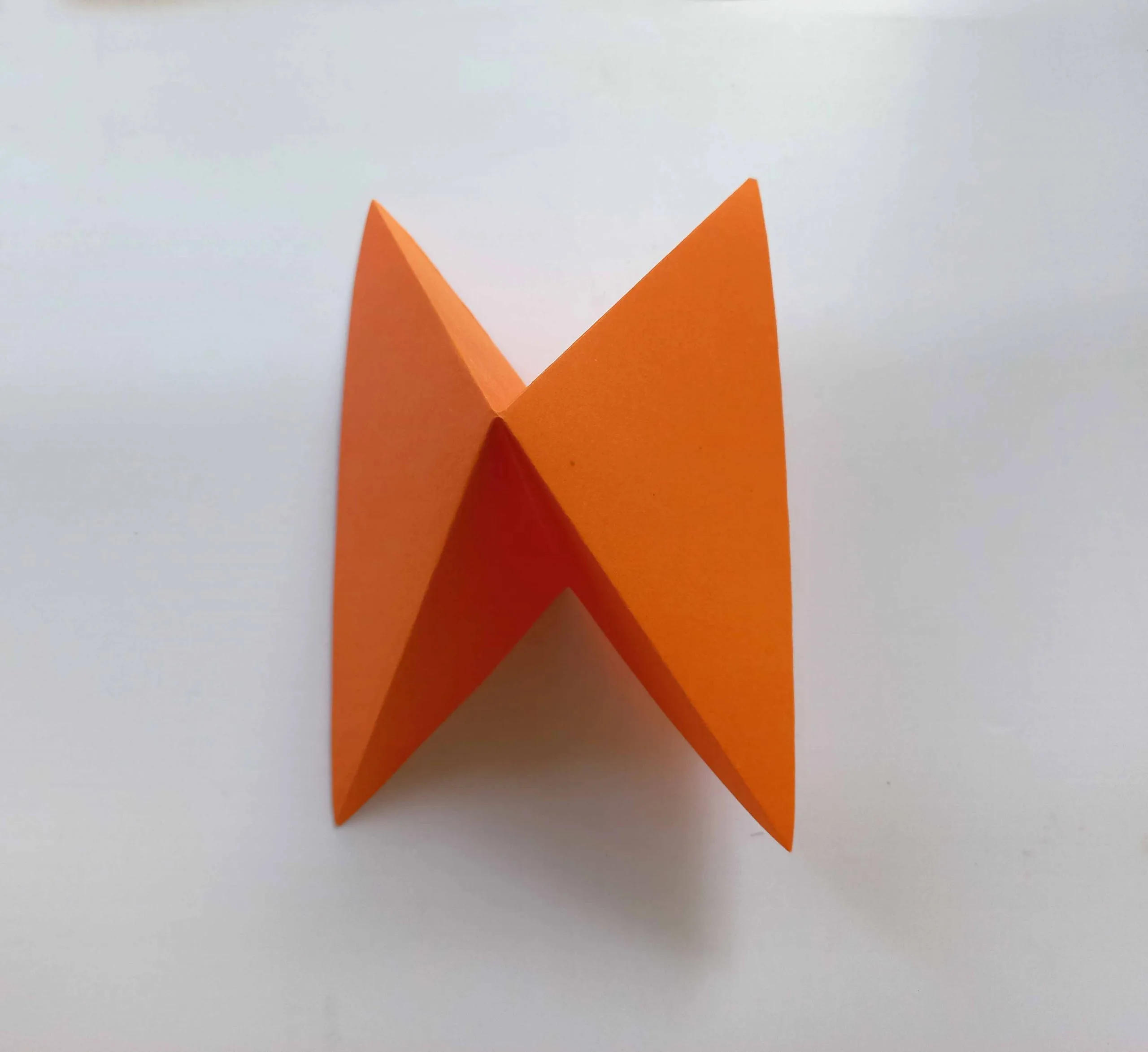 Step 9:
This fold will create a triangular shape.

Step 10:

Take the top-left flap and bring it upwards along the crease in the middle.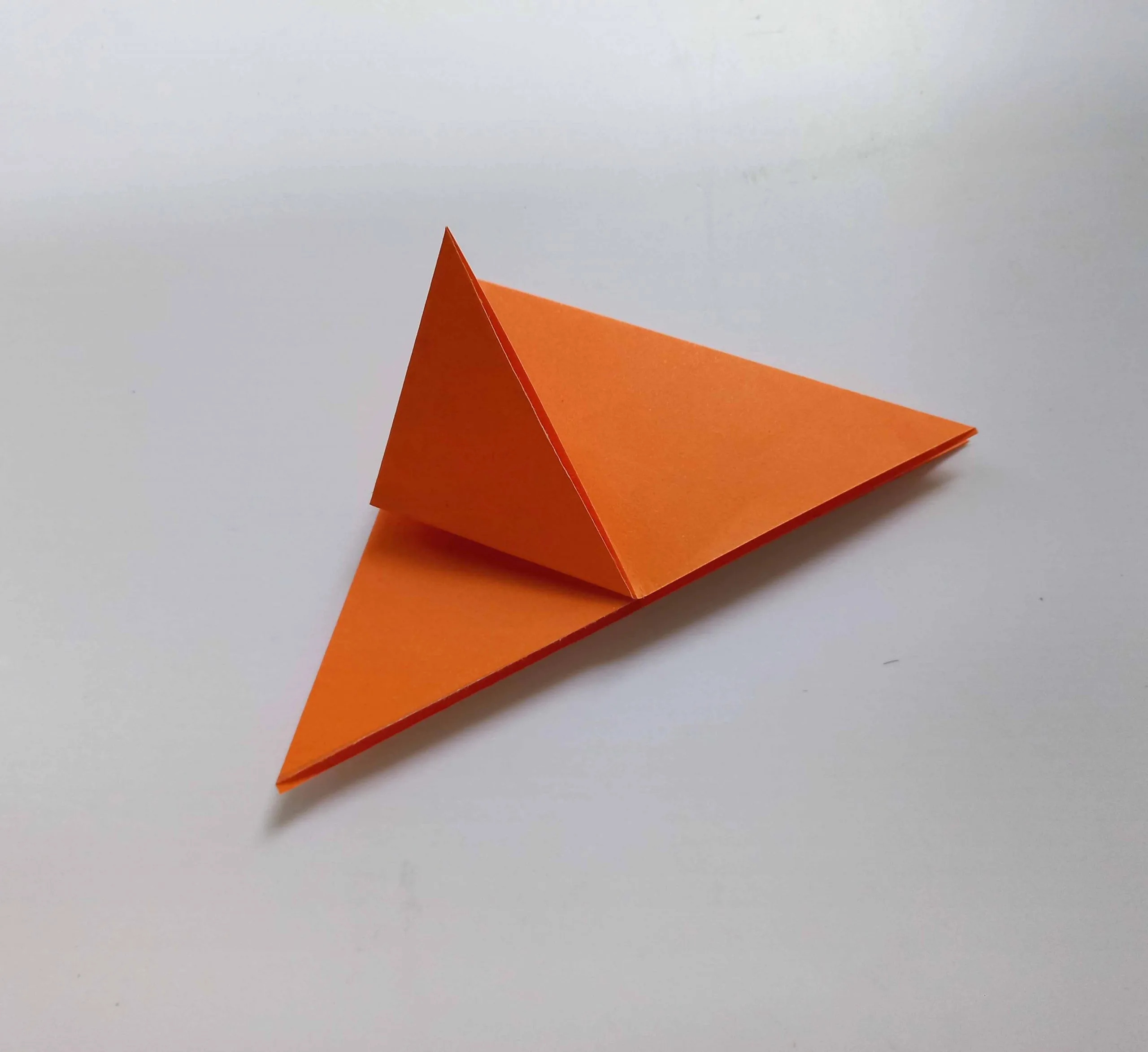 Step 11:

Similarly, bring the top-right flap upwards and fold it along the crease.
Step 12:
Apply the same method on the back part as well. Your 3d paper pumpkin is starting to take shape.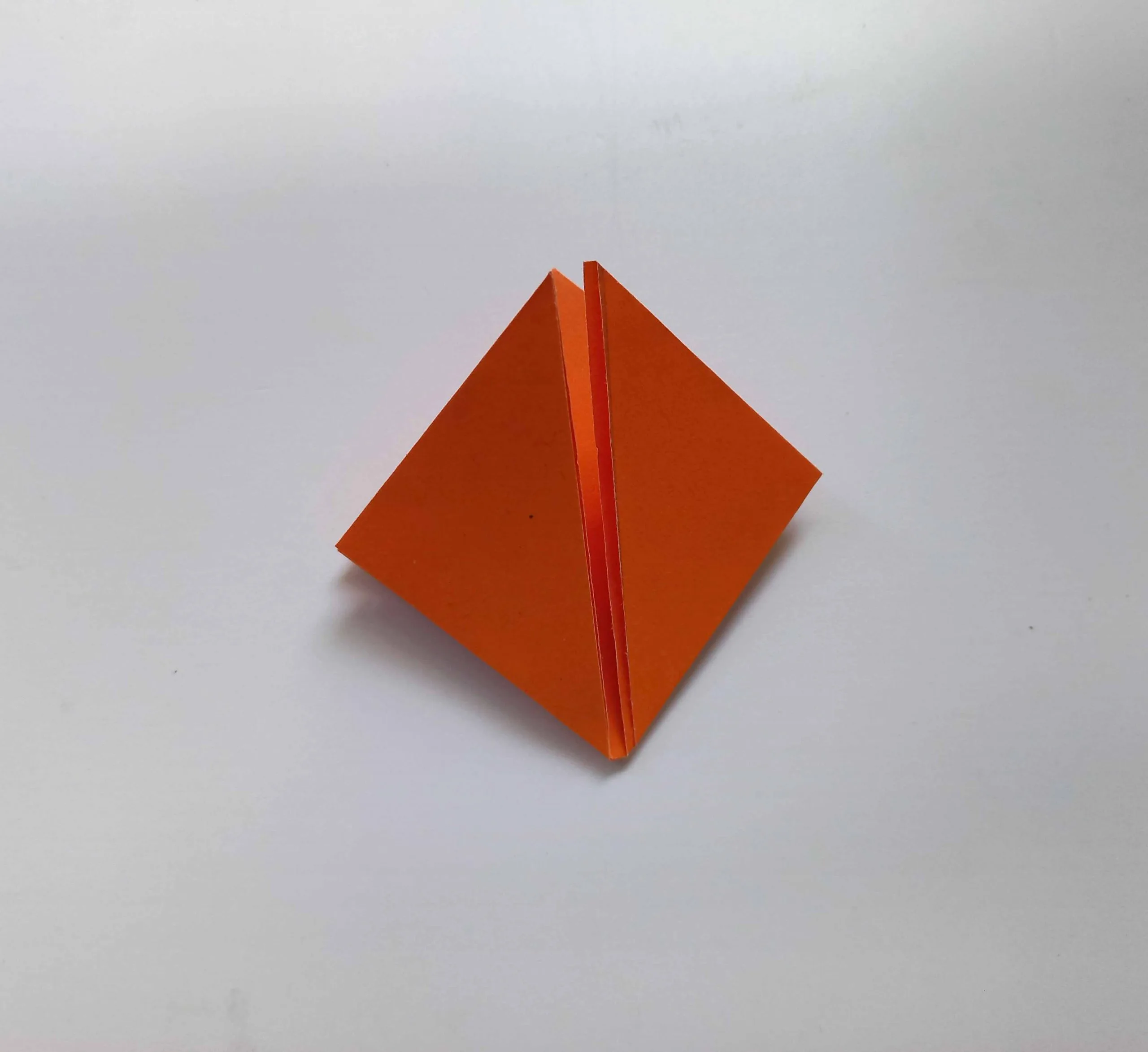 Step 13:
Take the left corner from the top flap and fold it inwards.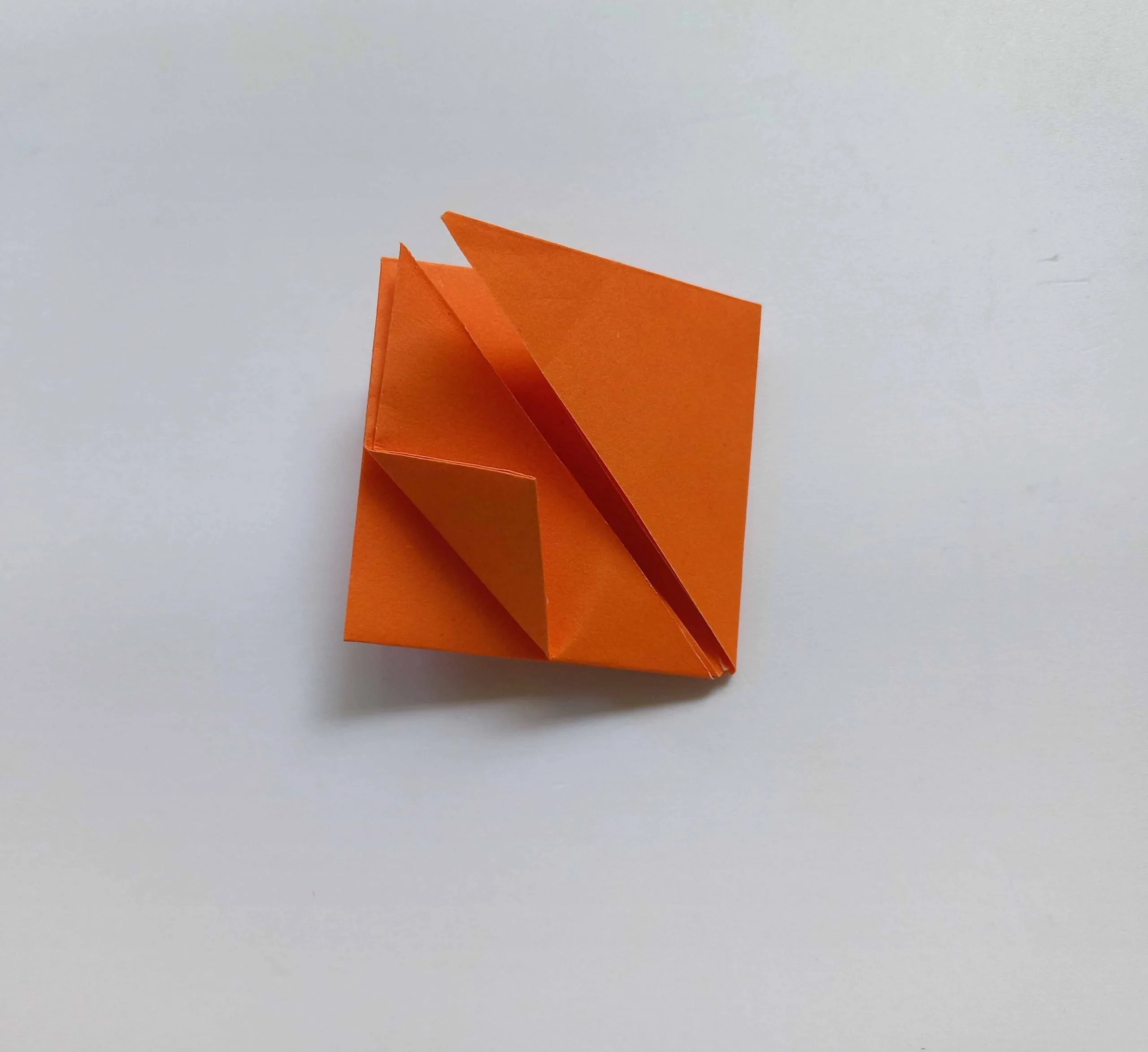 Step 14:
Similarly, fold the right flap to the center.
Step 15:
Apply the same method to fold the back part.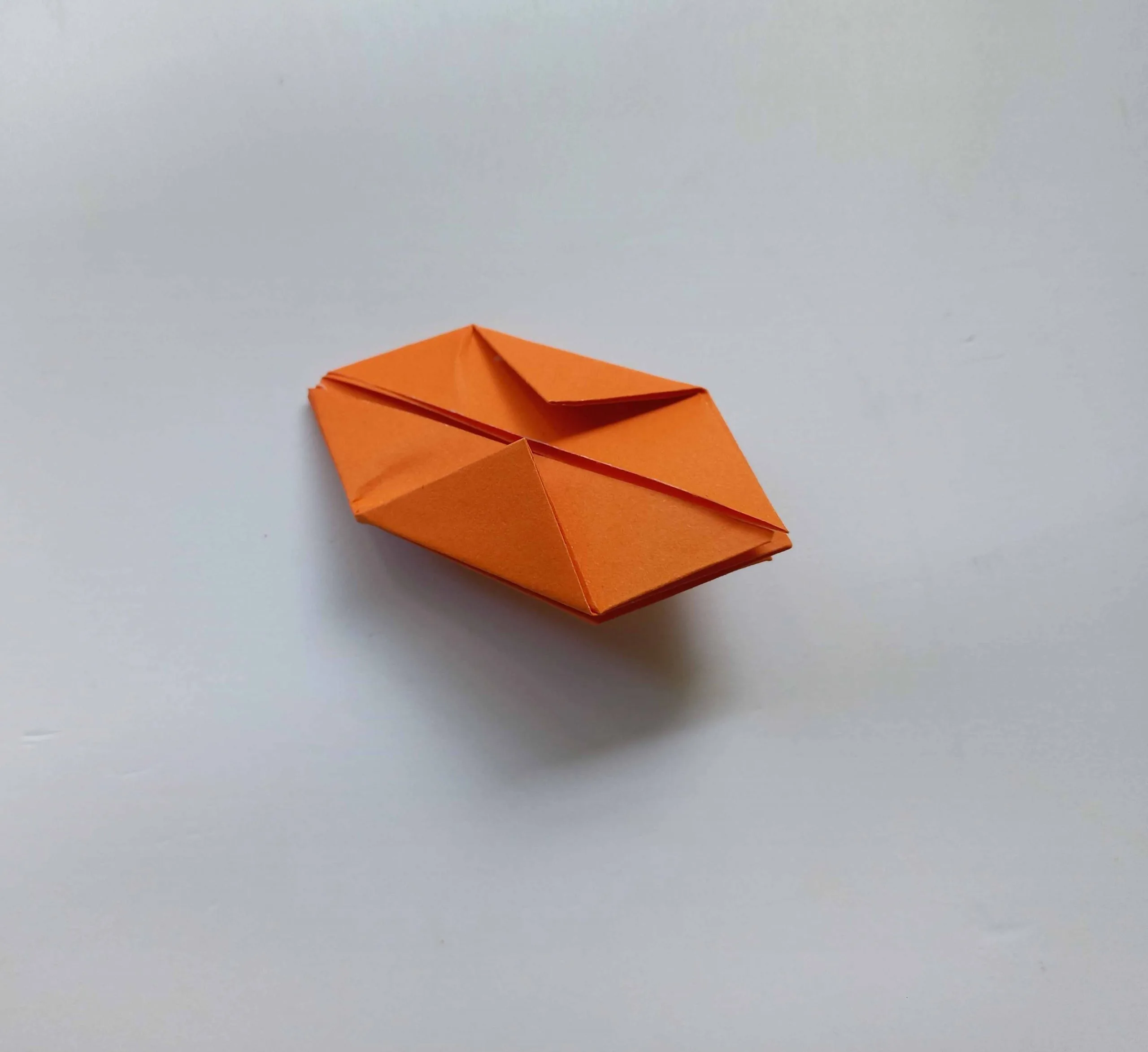 Step 16:
Take the top point from the left side and fold it outwards along the line.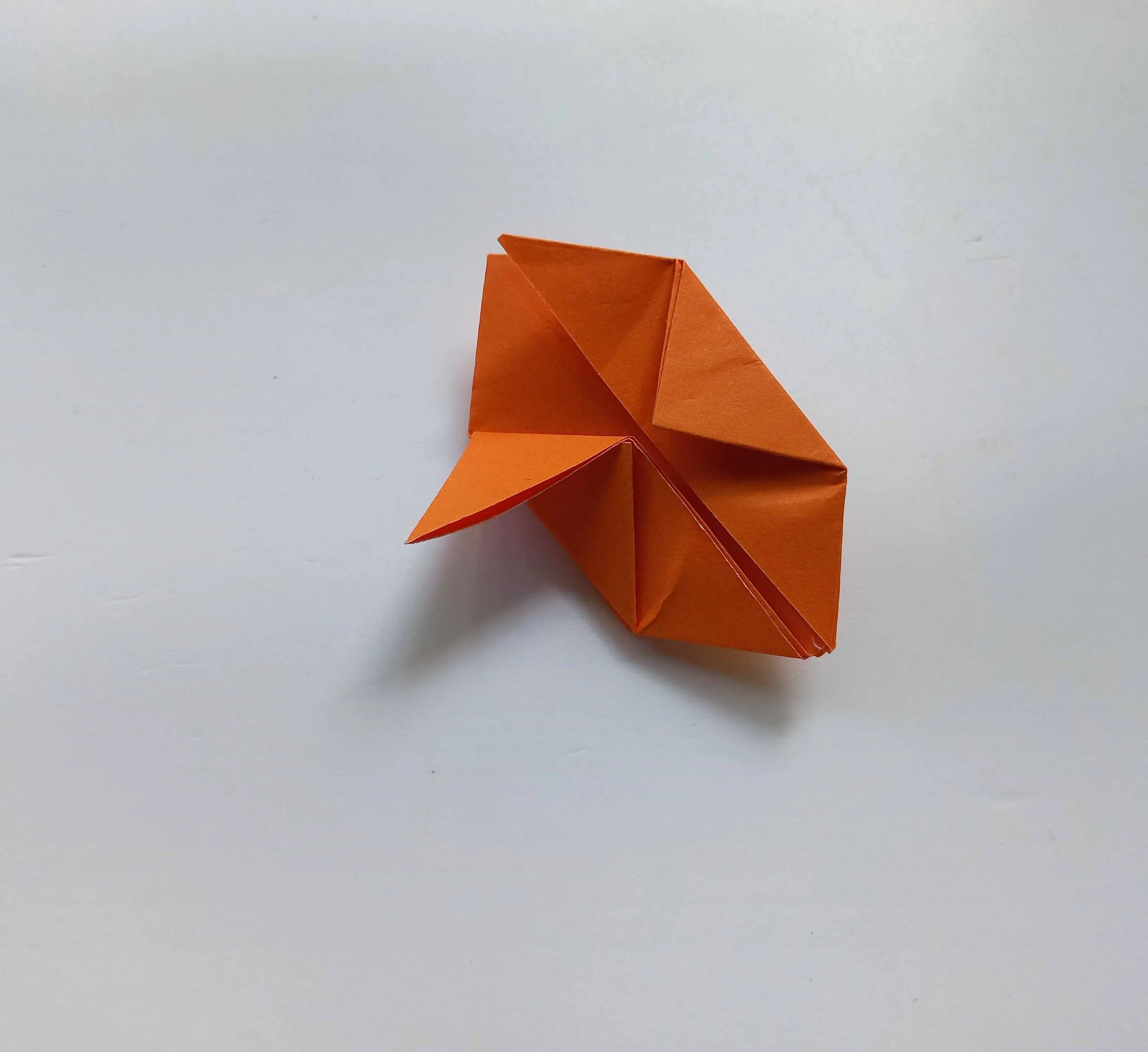 Step 17:
Then, fold it inwards along the outer line. Keep looking at the origami pumpkin images for guidance.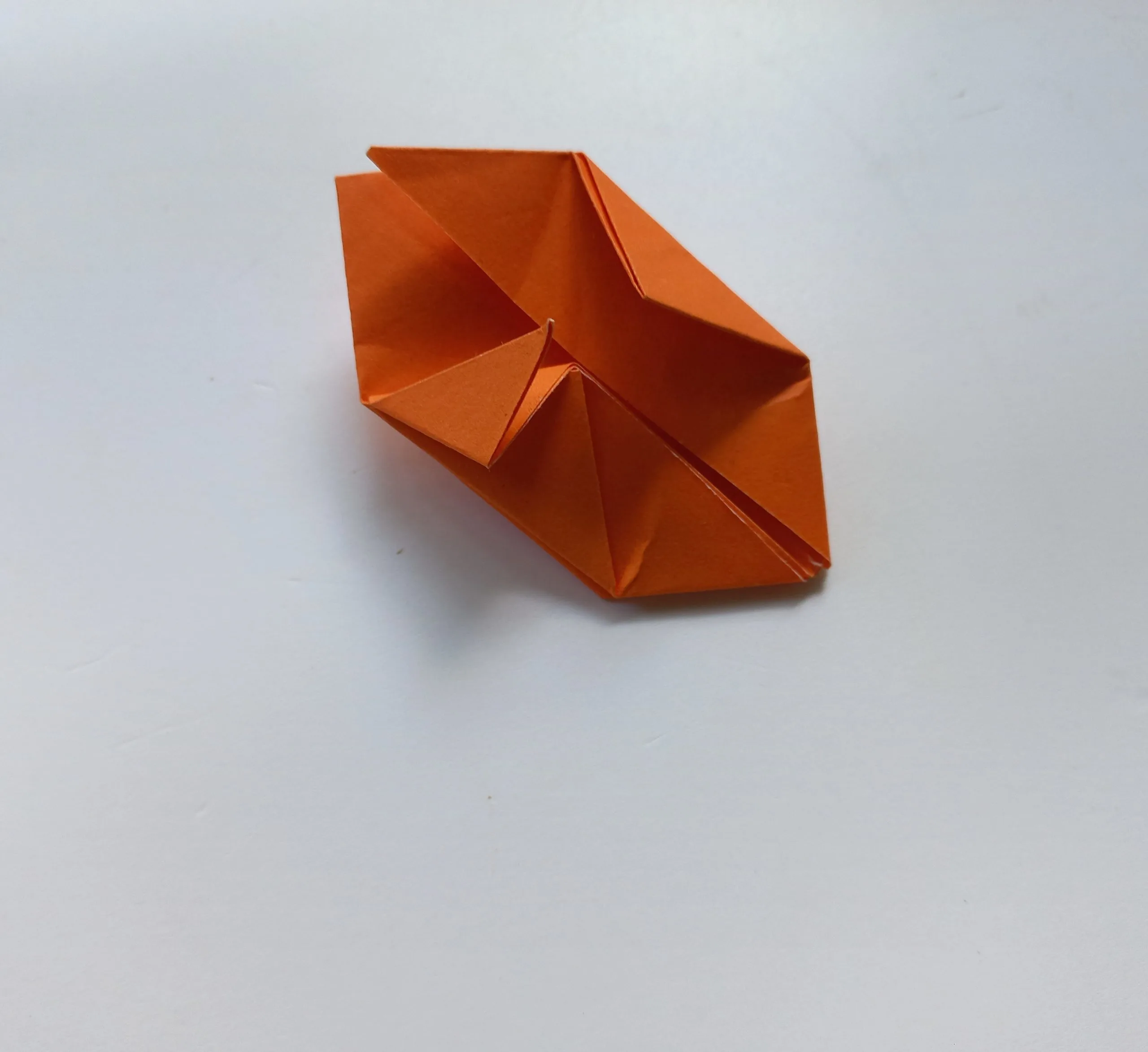 Step 18:
Open the gap between the top-left corner's fold.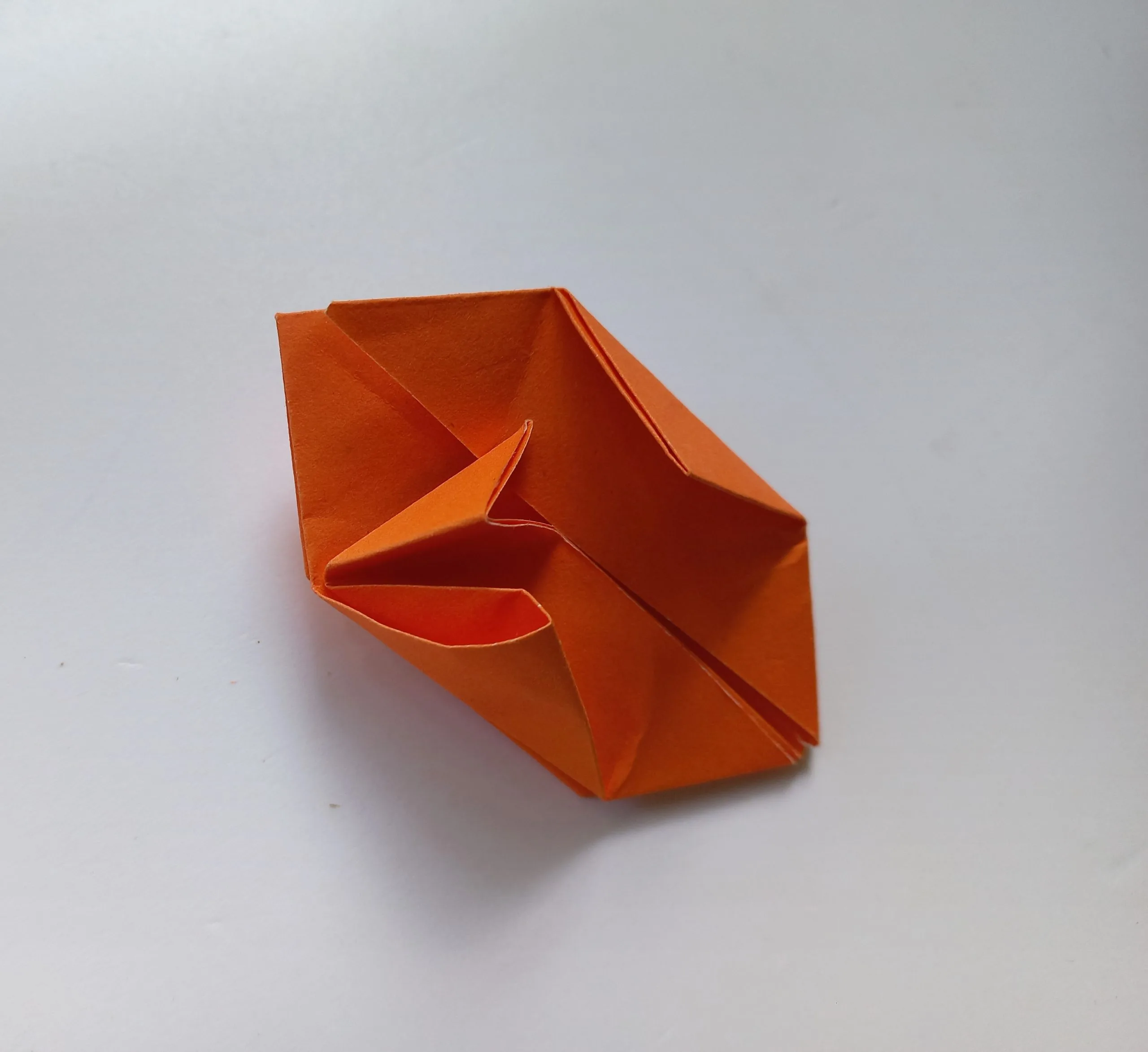 Step 19:
Put the top-right point fold (Step 17) inside the gap. Your pumpkin origami should look as below!!

Hold on tight as we are almost at the last stage!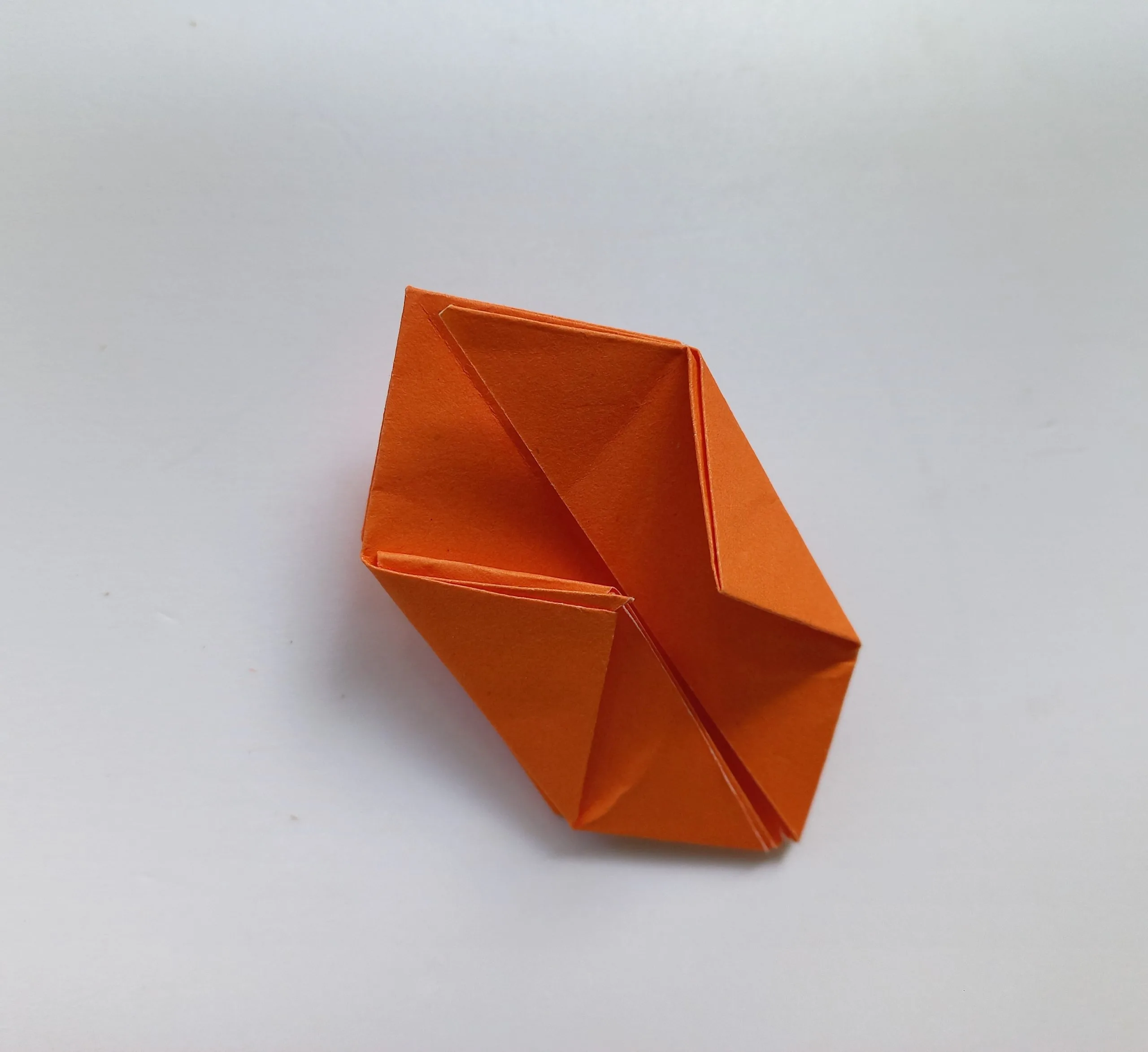 Step 20:
Similarly, fold in the top-right point inside the right corner's gap.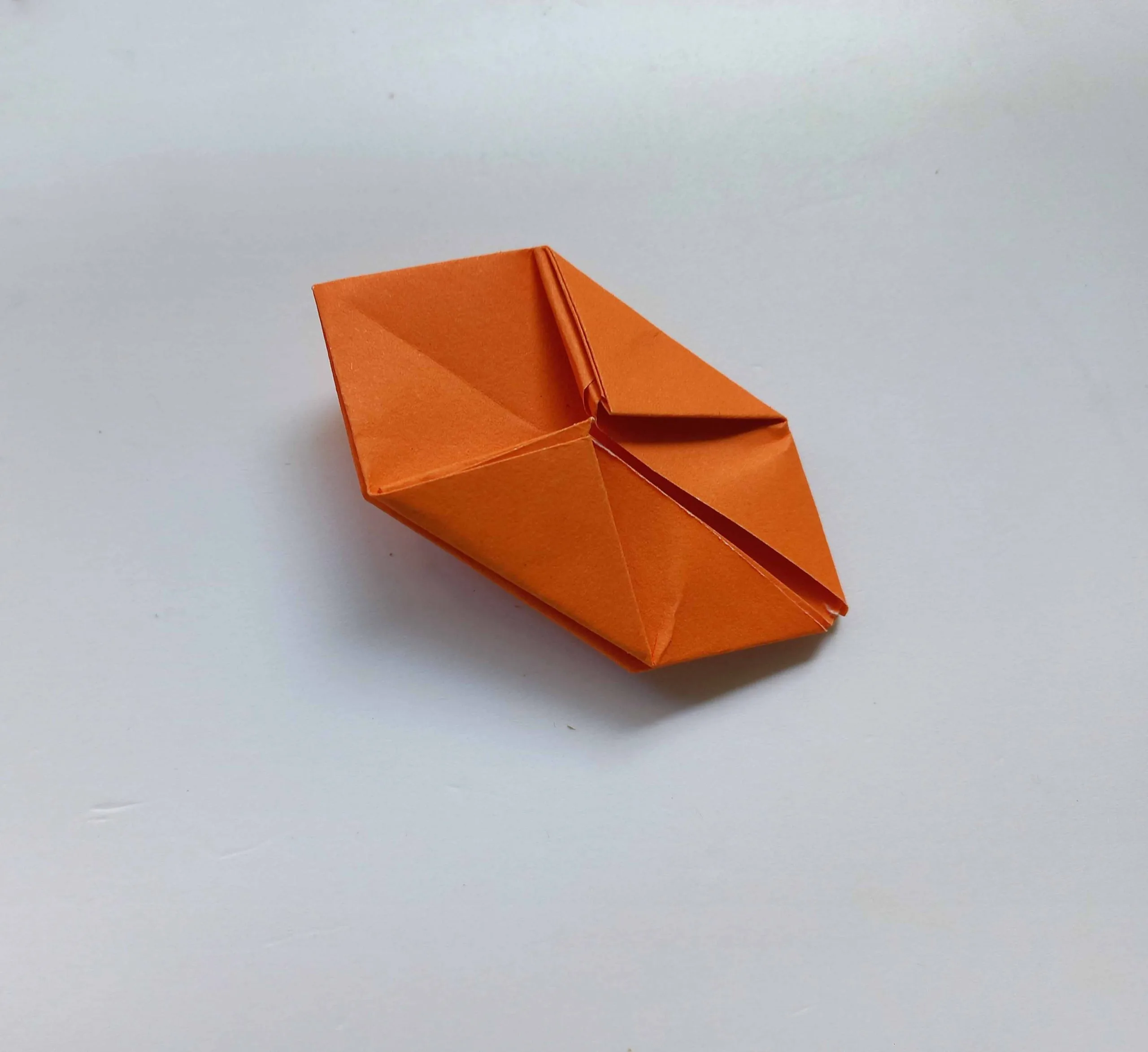 Step 21:
Do the same method on the opposite side as well.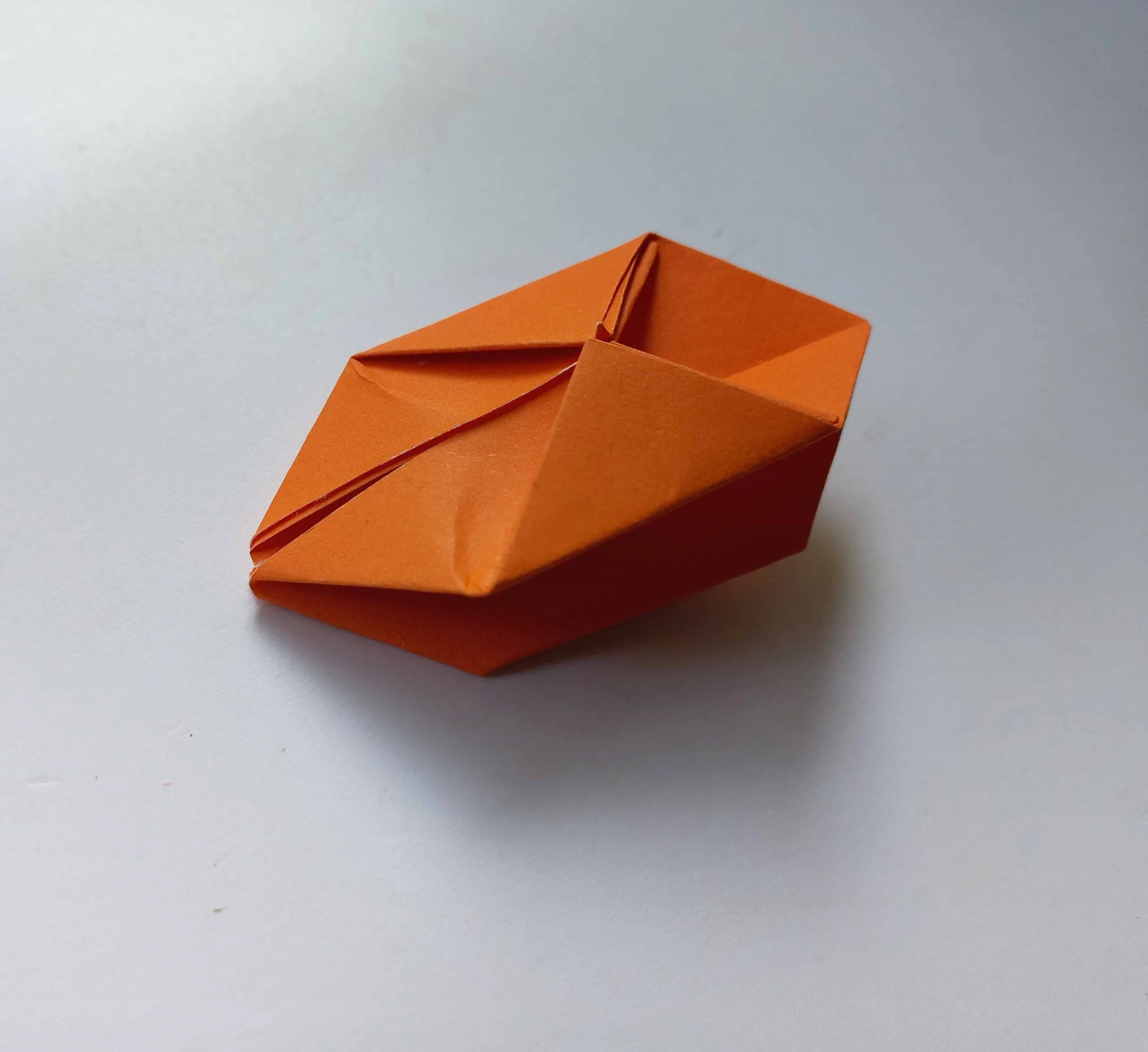 Step 22:
After making all the folds, you will notice there is a hole on the top of our origami piece, blow air into the hole to inflate it.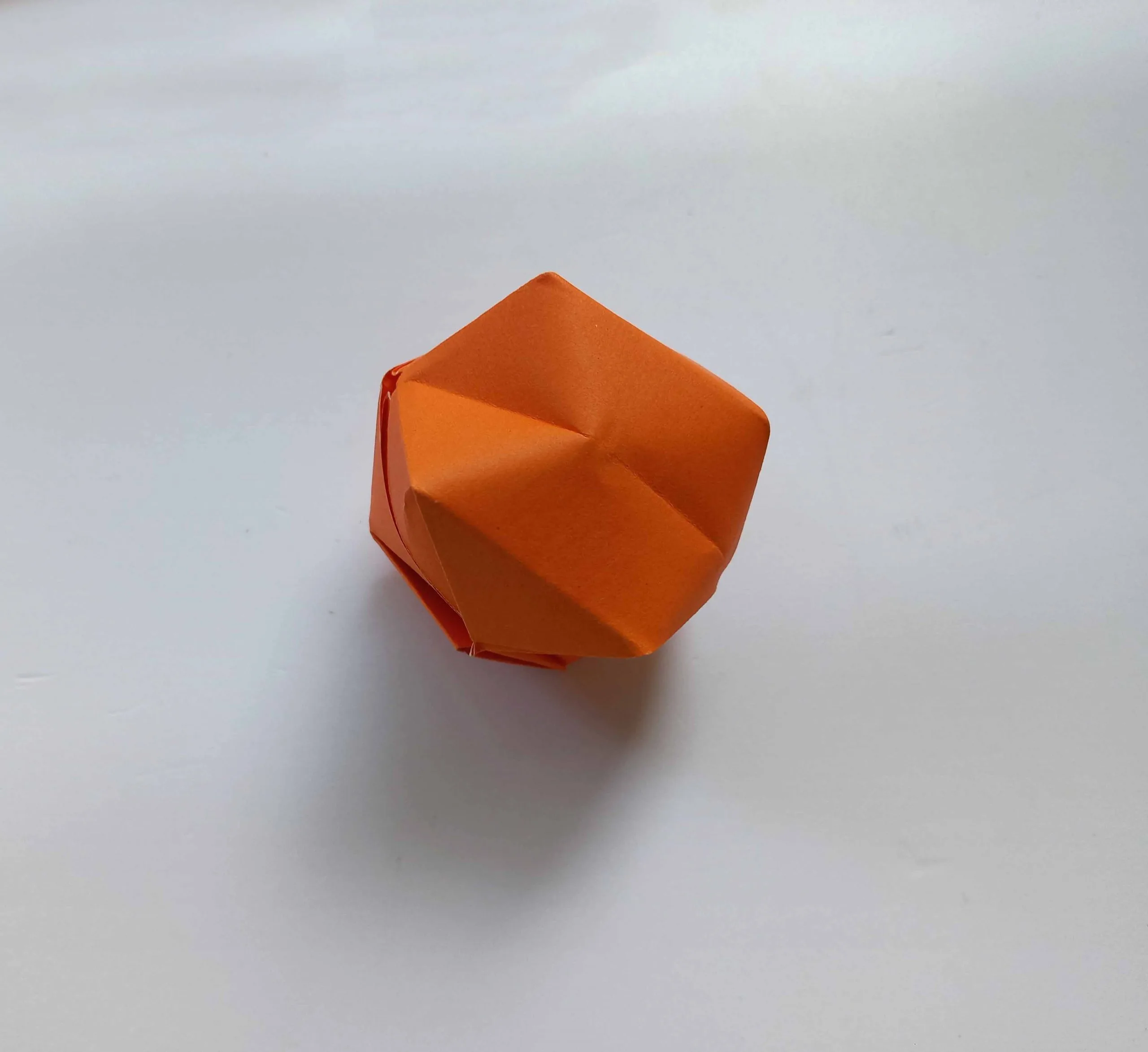 Step 23:
Cut out a leaf shape and a green rectangular craft paper.
Step 24:
Roll the rectangular craft paper into a stick. Then, make some diagonally folds on the leaf to give it some details.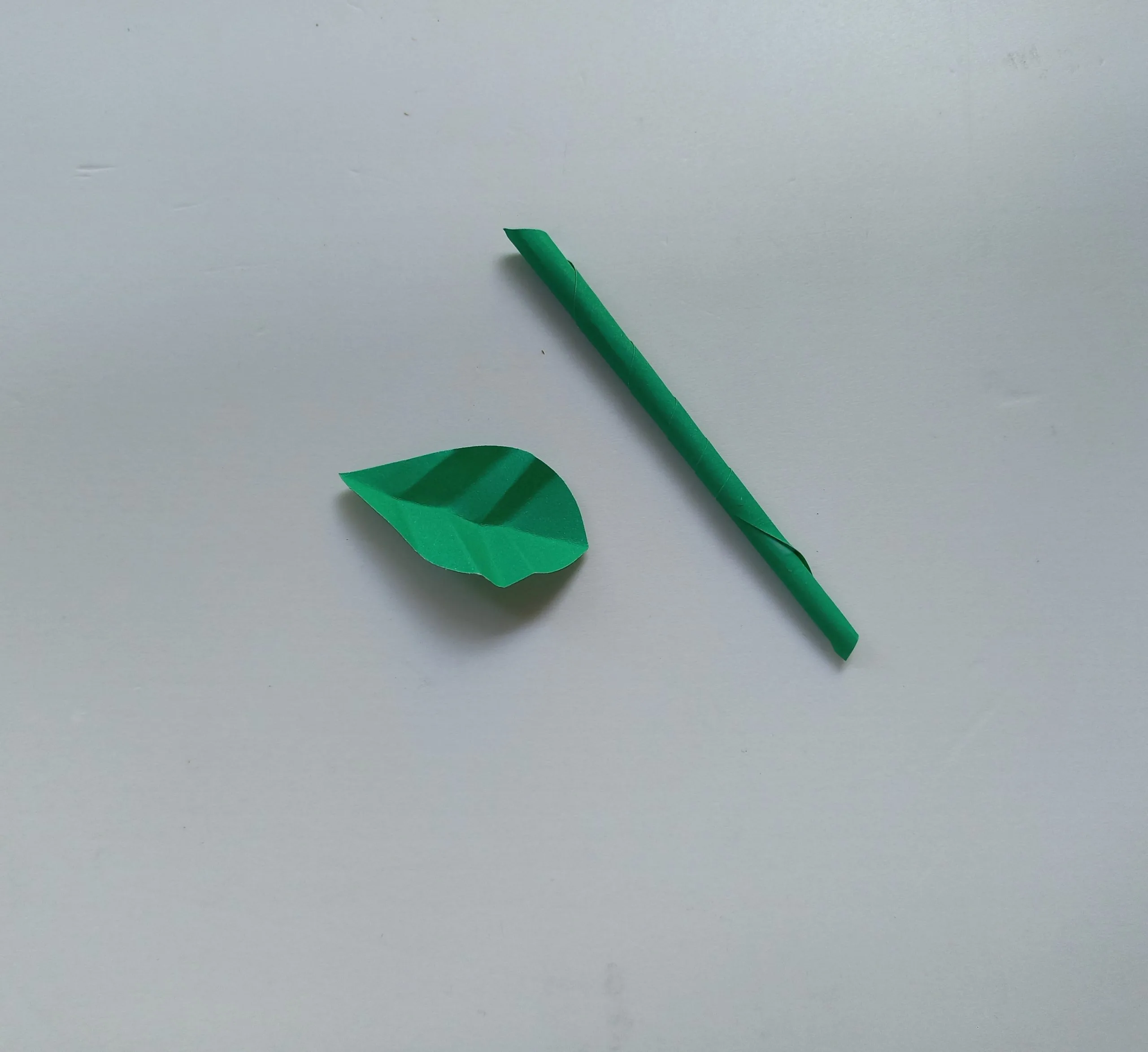 Step 25:
Put the paper rolled stick inside the whole, then glue the leaf on the stem to complete your origami pumpkin 3D.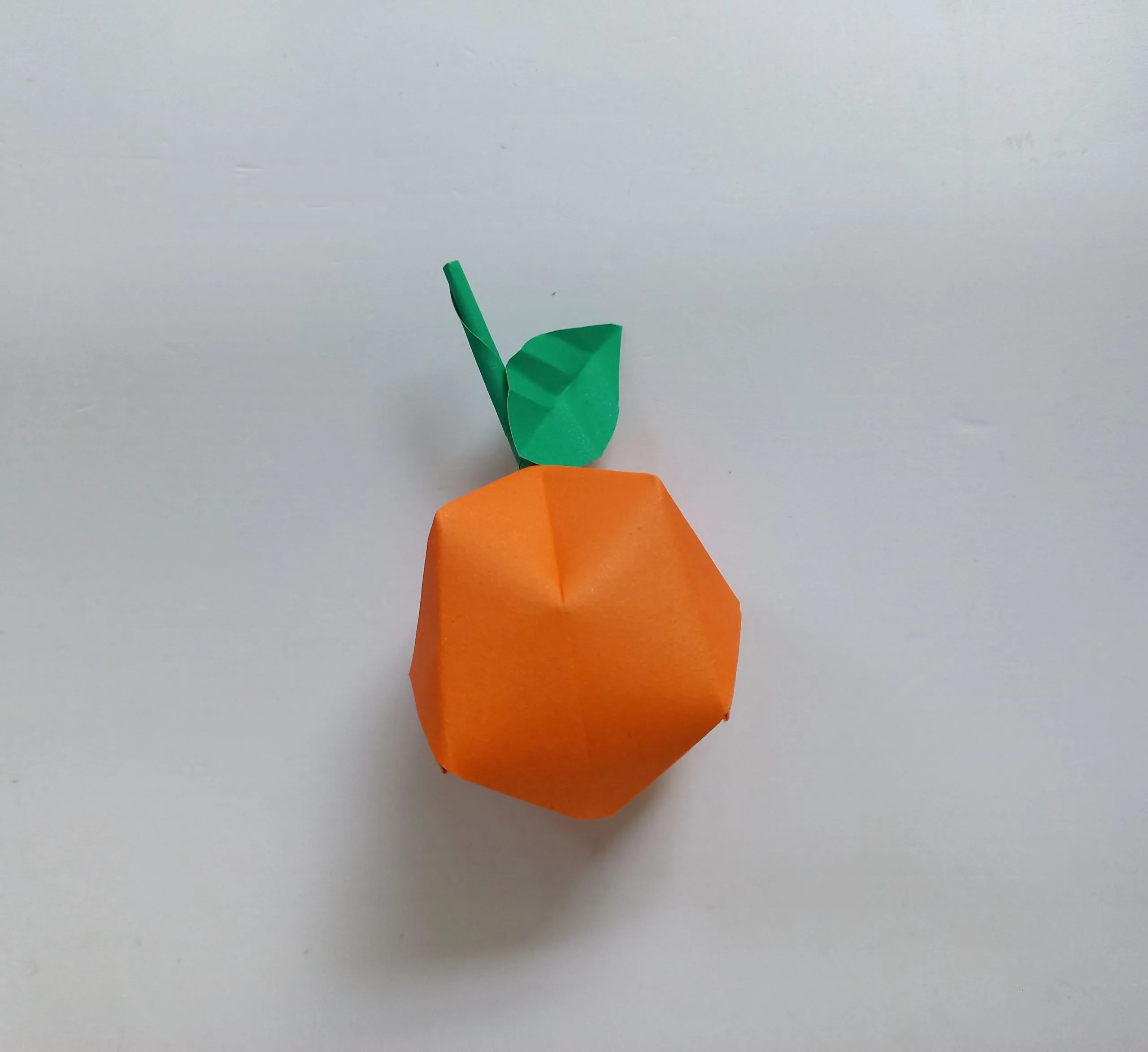 Please tell me how long it took you to complete your origami pumpkin 3D.
If you are really creative you might want to draw smiley or scary faces on them to turn them into Jack O Lantern origami.
What will you do with yours? They can be used as pretty Halloween or Fall decor around the home. You can set them on the mantelpiece or on your windowsill.
Would you like to see some more pumpkin origami easy, perhaps a simpler option for younger kids to try?! A 2D versions might be easier!
If you want even more pumpkin fun then why not try my easy pumpkin drawing
Younger kids can enjoy my cute pumpkin coloring pages
Do you know how to make an Origami Pumpkin 3D?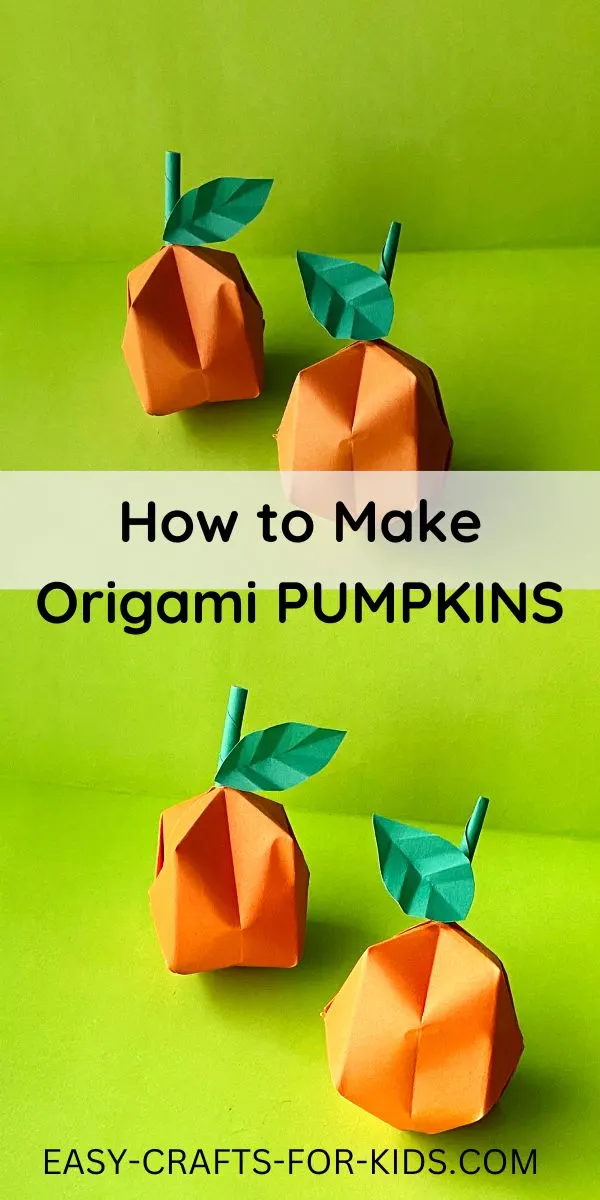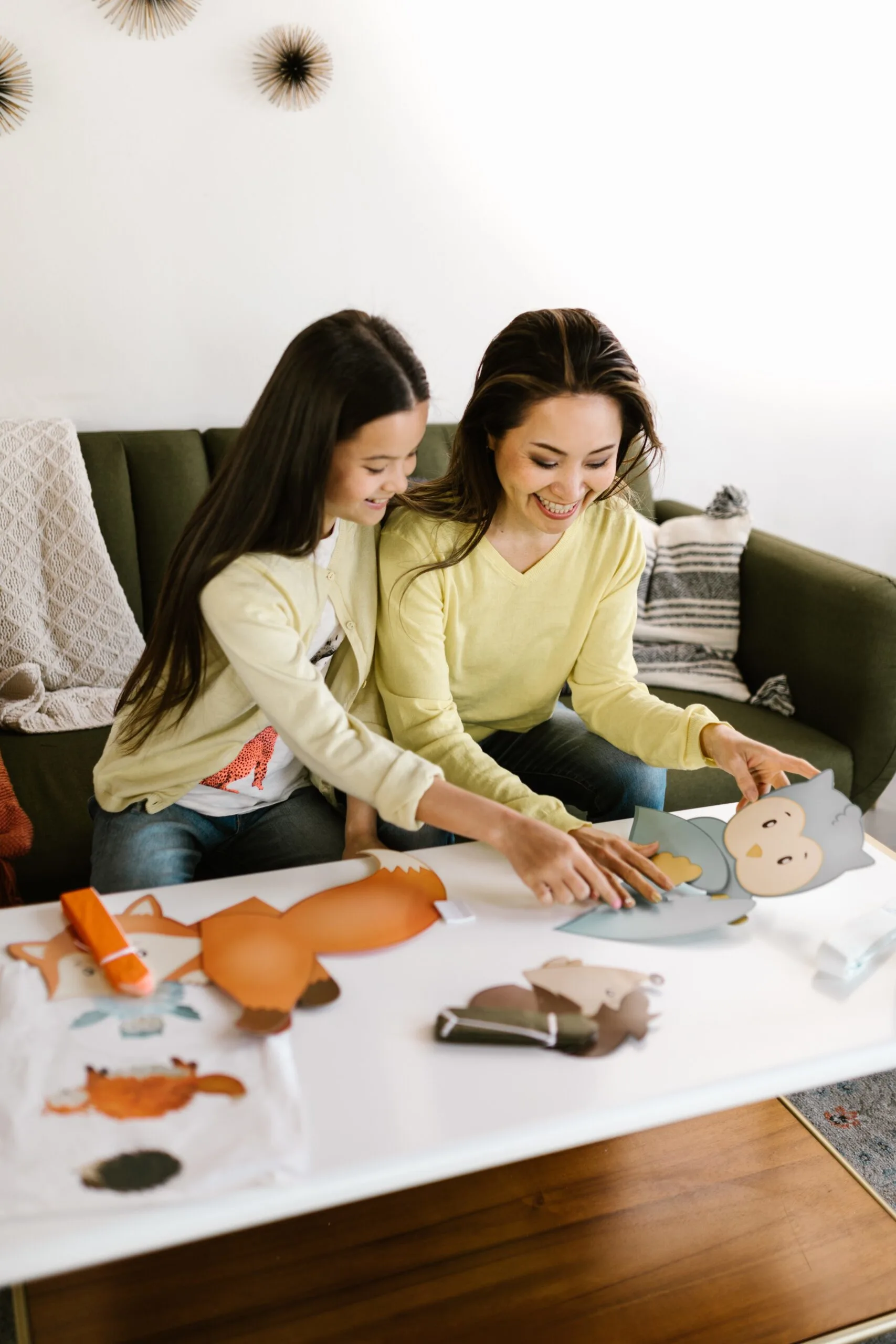 Hi there, I'm Laura an avid kids crafter with two little ones of my own to keep entertained! I have been doing kids crafts since 2018! Here at Easy Crafts for Kids you can find seasonal crafts for all age groups, as well as drawing tutorials, coloring pages and some other fun printables!