Yeh one of my favorite holidays is coming so soon, and I absolutely adore preparing crafts in the lead up. My easy Halloween origami ideas are perfect for kids (and adults) of all ages!
People are always mesmerized by paper folding crafts and assume some of my creations are difficult, but here's the thing they are easy when you know how!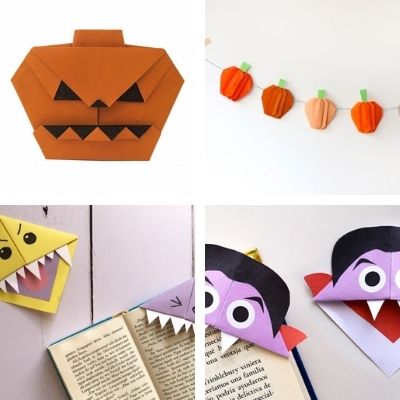 One of my most popular crafts is my folded paper fan…it took me 5 minutes to decorate it and 2 minutes to fold it and it is fabulous!
My easy origami craft ideas for kids also include a paper fortune teller, which I adored when I was at school! All the cool kids have been making them for decades!
During Fall the weather is not so pleasant and I often find myself sitting folding paper in different ways to see what I can come up with! I decided to go on the hunt for some Halloween folded paper crafts to help me decorate my house and entertain my kids!
These are fabulous for decor, gifts for school friends, or to use as puppets for pretend play! Why not put on a Halloween show for little children when you have finished your creations.
Before you start browsing my list from my top crafty friends please remember to stop by my entire list of Halloween crafts for kids
Halloween Origami for Kids
I love these Halloween origami ideas for kids this year! Try making some black cat origami or a ghost! How about a pumpkin or a bat.

I hope you like these spooky origami for Halloween! If you are still looking for frightening crafts check out my toilet paper roll crafts for Halloween and my list of Monster crafts
Have you anymore ideas for Halloween Origami for Kids?