This igloo craft with cotton balls is one of the easiest winter crafts for children that will use up some extra cotton wool in the bathroom medicine cabinet.
This igloo craft will need some cotton balls from the bathroom. You will need approximately thirty of them. If you do not have any close to hand you can get these cheap from The Dollar Store.
Other than the cotton balls, all you need is some glue and a piece of paper.
Igloos are actually made of blocks of ice, and it is incredible to watch them built.
This is a fun craft to make in school or at home, it is not messy and the supplies are few, making it cheap and affordable. This is suitable for preschool kids right up to older kids.
You can always add a little Eskimo to the doorway of your igloo too! Or maybe you might want to try my eskimo craft with paper plate!
Easy Winter Crafts: How to Make a Cotton Ball Igloo Craft
Grab your cotton balls, a piece of paper and some glue. Let's get crafting!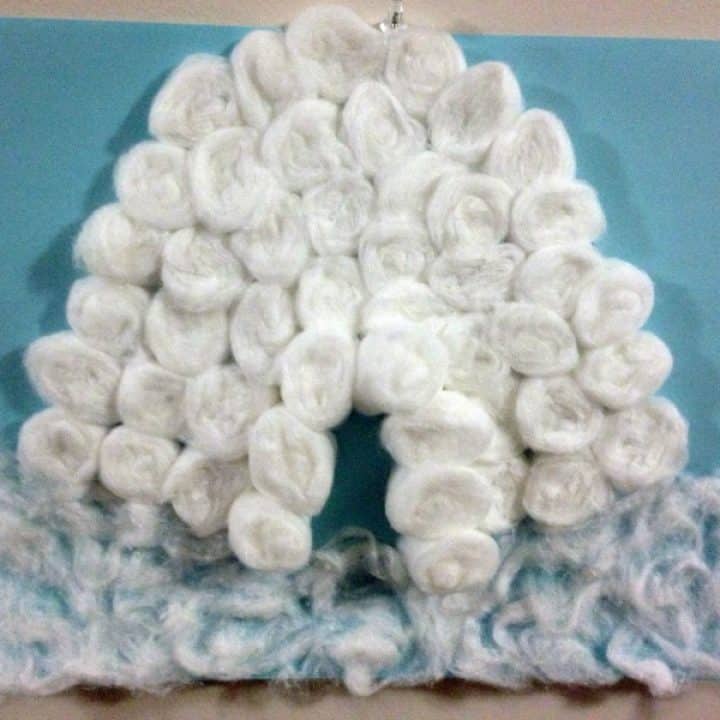 Igloo Craft With Cotton Balls
A fun soft Winter craft idea which enables little kids to make their own cotton ball igloo
Materials
Cotton balls
Glue
Paper
Marker, or pencil
Instructions
Step #1:
Take about 15 of your cotton balls and cut them in half. Make sure the cut is along the same was as the grain so you have flat pieces.
Step #2:
Draw out your igloo outline. Fill half of it with glue, then stack your cotton balls in three rows.
Repeat this for the other half. Make sure not to put any blocks on your door area.
Step #3:
For this part you will use some cotton balls that are NOT cut in half. Glue these around the border of your door.
This way they will stand out further than the walls of your igloo - giving a three dimensional affect.
Step #4:
Take 4-5 cotton balls and stretch them apart so they are stringy.
Step #5:
Glue these stringy pieces of cotton balls across the bottom of your igloo, as the ground.
Notes
How about sticking this cotton ball igloo onto a Christmas card for your grandparents!
Look at that! We've got a 3D igloo, made of cotton balls so it won't melt either!
Print This Craft & Many More – Crafty Critters: Crafts to Go!"
We've made our site "to go"! No internet? No problem, we've got 100 crafts to go in a downloadable ebook!
Our best crafts, formatted for perfect one page printing or easy reading on a tablet.
Learn more & get your copy today! Crafty Critters: Crafts to Go
Create a polar bear to roam around you igloo with our polar bear preschool craft.
Keep warm this winter with some tasty snowman soup!
These are great because they are also something with a soft feel so there some interaction with a variety of your senses.
As always, come back again! We are always crafting!
Easy Crafts for Kids is social too! Be sure to join us and keep up to date on what the Crafty Critters are up to:
Do you like this Igloo Craft With Cotton Balls?