l Iove making things from materials I already have in my home, like these cotton ball crafts for kids! You will be totally surprised at the number of fantastic art projects you can complete with some cotton wool!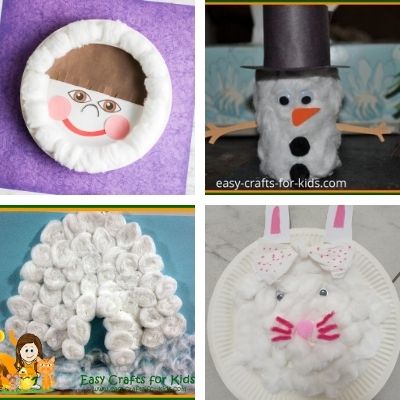 When my babies were born almost every free baby product I got had cotton wool balls! I mean I must have thousands of these in the house.
I kept telling myself I needed to do a clear out and get rid of them, when it struck me that I should keep them for art and crafts for my kids!
I am so glad we did as we have made so many things from snowmen to bunny rabbits and polar bears. I have tons more ideas for more art projects with cotton balls but for now I will share some of the things my kids and I have made so far!
The good news is that most of these are suitable for preschool and sometimes toddlers!
Cotton Ball Crafts for Kids
The most perfect way to recycle cotton wool is these cotton ball crafts for kids!

As you will have seen crafts with cotton balls are not just for Winter! Why not try some other ideas like a fluffy sheep for Spring?
How about dipping cotton wool in paint and making colorful flowers! You could use a thumbprint for the centre of the flower and flatten your colored cotton balls into the shape of petals around it.
Add a stem in the form of a green pipe cleaner. This would be one of my favorite flower crafts for kids. You could make this into a pretty card!
Can you share some of your other ideas with me?
Do you like these Cotton Ball Crafts for Kids?