Get your kids into the Fall mood with this cute paper plate squirrel craft with moving eyes!! We all know squirrels are so alert and always on the lookout and now kids can imitate this with the fun interactive craft.
When I ask my kids what they associate with Fall they say walks in the forest, orange/brown leaves, and chasing squirrels. They love the bushy tailed animal, so much so we have done an abundance of simple squirrel crafts this year.
Have an abundance of paper plates in your home, why not turn them into some paper plate animals
For now please enjoy my easy paper plate craft process to help you create this squirrel with movable eyes.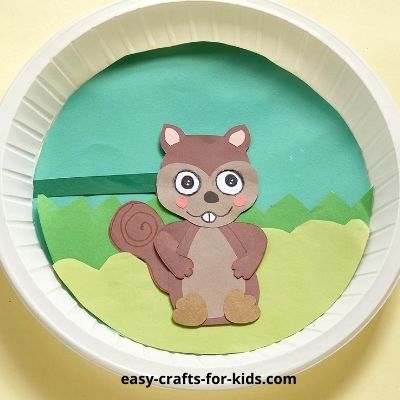 Paper Plate Squirrel Craft with Moving Eyes
This paper plate Squirrel craft with moving eyes is a fun interactive activity for Fall for little kids.
Materials
Paper Plate.
Colourful Cardstock Papers.
Pencil.
Ruler.
Scissors.
Marker Pens.
Glue.
Instructions
Step 1:
Cut out the pieces for the squirrel using the PDF templates.
Step 2:
Glue the squirrel's face and ears.
Step 3
Then, glue the hands, and the tail on one side.
Step 4:
Now, glue the feet on the bottom.
Step 5:
Glue the nose and teeth.
Step 6:

Cut out the backgrounds from the PDF templates.
Step 7:
Glue the trees and grasses on the paper plate to make a pretty woodland scene.
Step 8:
Cut out the eyes from the templates and glue the long green cardstock paper to it.
Step 9:
Place the squirrel inside the paper plate and put the eyes through the eye socket.

Ask your children what they think the squirrel is looking at when it is moving it's eyes. Maybe it senses danger or maybe it is on the lookout for some food.
What other Fall animal crafts would you like me to make? I already have a Red Fox craft and a Toilet paper roll owl. Would anyone like a wolf or maybe a deer or some hedgehogs? Please let me know in the comments and I will try my best.
If you are all into crafts with moving eyes then you ought to do my paper plate witch craft and paper plate pirate craft
Please make use of my free PDF Template to help you make the paper squirrel:-
Do you like this Paper Plate Squirrel Craft with Moving Eyes?
Hi there, I'm Laura an avid kids crafter with two little ones of my own to keep entertained! I have been doing kids crafts since 2018! Here at Easy Crafts for Kids you can find seasonal crafts for all age groups, as well as drawing tutorials, coloring pages and some other fun printables!