Our childrens pumpkin pencil topper will bring the festivities of Halloween to homework sessions and the classroom!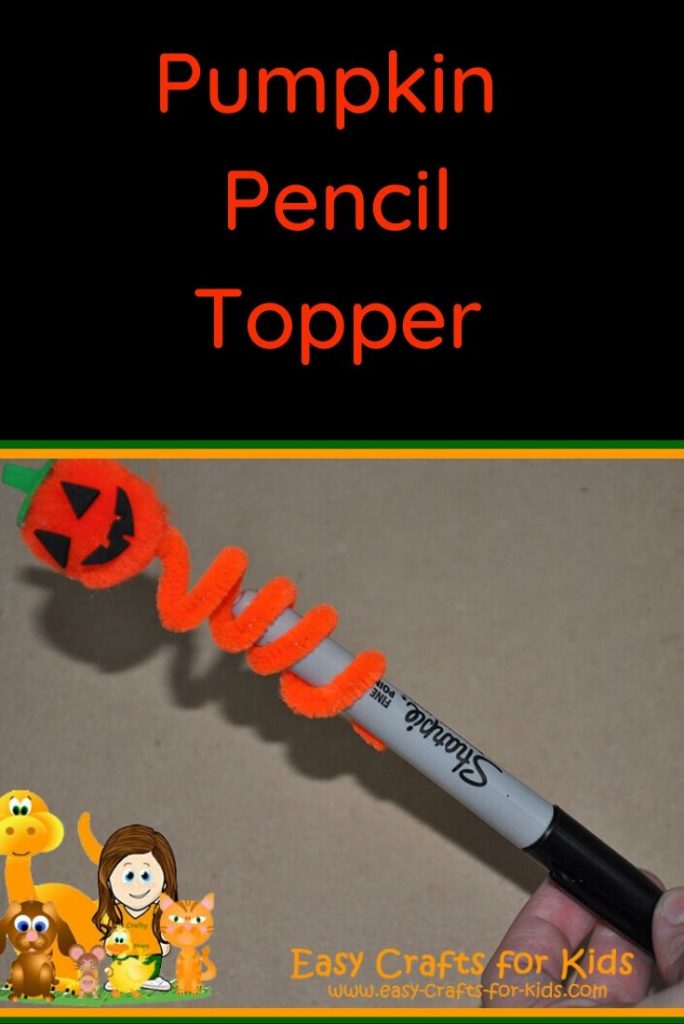 Fun and easy Halloween crafts that turn into a fun pencil or pen topper too!
This is a great craft for a classroom setting, have the kids create their own and it will bring some Halloween spirit to the room whenever they are writing with their pens.
These can also be created with any theme in mind so you can have the kids create a new one each season. Get them excited about writing with their pens and pencils.
Why not also make one for mom and dad to bring to work!
Pumpkin Pencil Topper -Halloween Critters
Follow our instructions and bring a a bunch of the to school as a little Halloween gift to all your friends and classmates!
Craft Supplies:
Pom Poms
Pipe Cleaners
Googly Eyes
Felt or Foam
Scissors
Construction Paper
Glue
Step #1:
Choose which creature you would like to create. Pick out the pom poms, pipe cleaners and felt that would match the needed colors.
For our example we are going to create a pumpkin.
Step #2:
Wrap your pipe cleaner around your finger to create the body of your little creature. Put this to the side.
Step #3:
Use a pom pom as the head of your little creepy crawly. Glue on its googly eyes.
Use a smaller pom pom for its nose (if it has one).
Attach arms and legs to the pom pom as well if they have. (For our example, we don't have this step)
Step #4:
Glue your pom pom head onto your twirled pipe cleaner.
Twirl it around your favourite marker or pencil and you will be bringing in Halloween in style!
Add accessories! Add hats, or other accessories to your creature.
More Childrens Halloween Crafts:
Create a bunch of these childrens Halloween crafts for all your classmates and friends. You can make ghosts, witches, pumpkins and more!

Paper Bag Pumpkins: Make a one of a kind treat bag for Halloween

Footprint Ghost: Stomp out some spooky ghosts.

Cone Witch: A cute decoration for the front porch.

Achoo Ghosts: So simple and all you need is some Kleenex!

Walnut Jackolanterns: Use up some walnets and make mini pumpkings.

Spiders: Pom poms and pipecleaners is all you need for these little creepy crawlies.
Easy Crafts for Kids is social too! Be sure to join us and keep up to date on what the Crafty Critters are up to:

Do you like this Pumpkin Pencil Topper?