As soon as Winter hits and white snowflakes appear my kids and I instantly think about our tissue box igloo craft! Every year we make igloos and wonder what life would be like to live in a real one!
Winter crafts come no better than this igloo made from a tissue box! I just love recycling things as opposed to throwing them straight in the bin!
This activity is great for little kids! It helps them develop fine motor and scissor skills, as well as learn the importance of following instructions from start to finish! If you are looking for an easy craft for kids using tissue box this is it!
Beware though Mom or a teacher will have to help with the glue gun if you use it. Alternatively you can stick the cotton balls on individually, but this will take much longer.
Before I give you the step by step process with images I have to let you know I can also show you how to make an igloo from cotton balls
Maybe you might want to try both and see which one the children prefer.
How to Make a Igloo with Cardboard and Cotton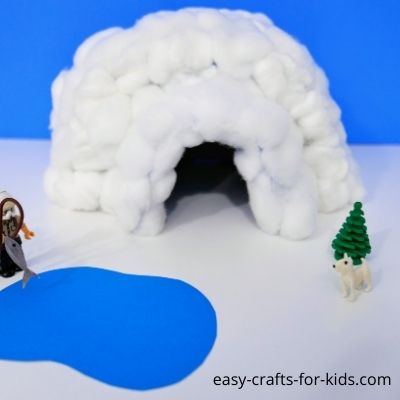 Tissue Box Igloo Craft
My tissue box igloo craft is an easy Winter activity for young children that takes around 15 minutes.
Materials
Empty Tissue Box (I used a long rectangular box, but a square tissue box would work just as well)
Blue poster board (You could also use white poster board)
Cotton balls
Hot glue gun and glue sticks
Scissors
Tape
Instructions
Step 1

Begin by turning the tissue box upside down. Open both ends of the tissue box, and cut along the top seam/fold of the box, approximately 1", on both sides.

Fold the sides back in, and fold the top flap over, and hot glue back together. The sides of the tissue box will now be slightly rounded, and your tissue box should be shaped similar to an igloo.

Step 2


Next, measure and cut the poster board to fit across the top of the tissue box, and adhere with hot glue. Cut another piece of poster board to fit across the front rounded portion of the tissue box, right above the "door" opening, and adhere with hot glue.
Step 3


To make the tunnel entrance you will need to cut a strip of poster board
approximately 3-4" wide. Fold the poster board around the "door" to measure how long you will need, and cut accordingly. Make a ½" fold the length of the cut piece of poster board, and then cut small slits all the way across the fold, spacing the slits approximately 2" apart.

Using hot glue, attach the poster board around the "door" of the tissue box, using the cut slits on the fold to help curve the poster board as your glue.
Your tissue box should now be in the shape of an igloo, with a tunnel
entrance, and dome shape.

Step 4

Lastly, using the glue gun, attach cotton balls all over the tissue box, making sure to cover all sides, and the tunnel entrance. Let the glue dry, and your tissue box igloo is ready for play!

If you want the kids to have more involvement do not use a glue gun and let them stick the cotton balls down with some glue. This will take much longer but they will have so much fun completing the igloo craft.





What will you do with your igloo? How about using it for pretend play? You could put little figures inside it? Use it for story telling.
Ask your kids what would animals would they expect to see living near igloos. You might want to talk to them about eskimos too. Use my paper plate eskimo craft too if you like to get their creative juices flowing.
If you have an abundance of cotton wool do not hesitate to try some of my other Easy Cotton Ball Crafts
What other tissue box crafts for kids could you make?
Is this Tissue Box Igloo Craft the Best Igloo Ever?
Hi there, I'm Laura an avid kids crafter with two little ones of my own to keep entertained! I have been doing kids crafts since 2018! Here at Easy Crafts for Kids you can find seasonal crafts for all age groups, as well as drawing tutorials, coloring pages and some other fun printables!