Use these paper bag animal puppets craft for kids to help teach the little ones all the diversity in the animal kingdom.
Sometimes the kids all want to do crafts with a different animal – so having "bear crafts" or "lion crafts" won't please them all!
Use these ideas and let the kids pick which animal they want to create.
The animal kingdom is full of fun animals you can create crafts around.
If your kids have a favorite animal then its a great one to choose for a craft activity.
This is a great opportunity to teach toddlers and preschool kids colors and the names of different animals.
These animal crafts will help them to create some easy puppets for kid – a craft they can continue to play with for a long time afterwards.
Paper Bag Animal Puppets
I have divided these into four parts so that you can see the step by step craft for each animal.
Crab Paper Bag Puppet
Now, your very first of your animal crafts for kids puppets is ready for its debut. This is one of my favorite summer crafts for kids! I always like to talk to my children about the different animals they might find at the beach.
Cut out a square of red paper, the same size as your paper bag (except for the folded area). Glue this in place.
Cut out a square of red that is the same size as the folded section at the bottom of your bag. Glue this in place too.
Cut two strips out of the red paper. Also, two circles out of white paper. Glue the circles to the red strips and draw on some pupils with a black marker. These are your eyeballs – glue them on the bottom fold of the bag.
Cut two arms out of red paper, make sure you have claws too. Because crabs need claws! Glue these in place – one on each side of the bag.
My Toilet paper roll crab craft is another great idea if you want to stick on this theme.
You can make other sea creature crafts too – Why not make a Squid Pencilholder out of toilet paper roll.
Or, maybe make a fun Sea Turtle Craft out of an empty fruit cup!
Bumble Bee Animal Puppet
A fun bumble bee to add to the casting list for your debut play. A great idea for Spring and an opportunity to educate kids on the role of this insect, i.e pollination. Can be added to my list of great paper bag puppet ideas.
Paint the entire paper bag with yellow paint. Allow this to dry. Paint black stripes once the yellow paint has dried.
Cut two wings out of white paper and glue them on the back of the paper bag.
Cut two white circles out and draw on black pupils. Glue these eyes on the bottom flap of the paper bag.
Cut out two antennae from yellow construction paper and glue these above your eyes.
Now that we have a bumble bee puppet, we can also make a Bumble Bee out of a toilet paper roll, or a fun Bumble Bee Bookmark!
Frog Paper Bag Puppet
Color your paper bag with a green crayon. Add two nostrils with black marker.
Cut out a half moon from green construction paper, add two eyes out of white paper (drawing on pupils with black marker). Glue this to the flap of your paper bag.
Cut out two arms out of green construction paper and glue them to each side.
Add some more froggy fun to the crafting table with a Paper Plate Frog made by recycling a paper plate and folding it in half! Or, make your frog popsicle stick prince charming.
Tiger Paper Bag Puppet for Kids
The tiger paper bag puppet for kids is one of my favorite paper bag puppets, which tends to get the most comments from little kids. You might want to combine him with my cat puppet craft. This is made with paper and popsicle sticks. I still have to get around to making a paper bag cat puppet.
Cut out a piece of orange construction paper, the same width as your bag. Glue it in place.
Cut out another piece of orange construction paper the same side as the bottom fold of the bag – and glue this in place.
Cut out two orange arms, and two ears. Using a black marker draw stripes on these.
Glue your arms to each side of the bag and the ears on the bottom.
Draw stripes all over the body of your tiger as well.
Using white paper cut out two fangs. Glue these under the fold of the paper bag.
Cut out some whiskers from white paper as well. And a nose from pink construction paper. Glue these just above the fold of the bag.
Cut out two eyes (drawing the pupils on with the black marker). Glue these above the nose.
If you want a Thanksgiving themed animal craft, then you need to make my paper bag turkey puppet
Have great fun with these paper bag animal puppets
Encourage kids to be creative with these. Ask them lots of questions, i.e where do you think you would find these? Does a frog live in a pond or would you find it inside?
Stimulate their brains and get them to tell their own story with these hand puppets! This will work great for nursery and kindergarten kids! If you have lots of girls in your class why not try out my Paper Bag Princess Craft.
You will be amazed at how much littles ones of this age already know, plus they will learn more from their peers and fellow students.
These are just a few of the many fun animal crafts for kids you can create. All of these can be adapted to create almost any animal. You probably will also love my paper plate animal crafts which is a great follow up to this craft. Kitty cat lovers will also love my selection of cat crafts for kids
If you like making puppets you will also love my popsicle stick puppets which let you make 3 things for pretend play!
These can be used to act out plays, or play pretend. Let their imaginations run wild!
Easy Crafts for Kids is social too! Be sure to join us and keep up to date on what the Crafty Critters are up to:

Do you like these Paper Bag Animal Puppets?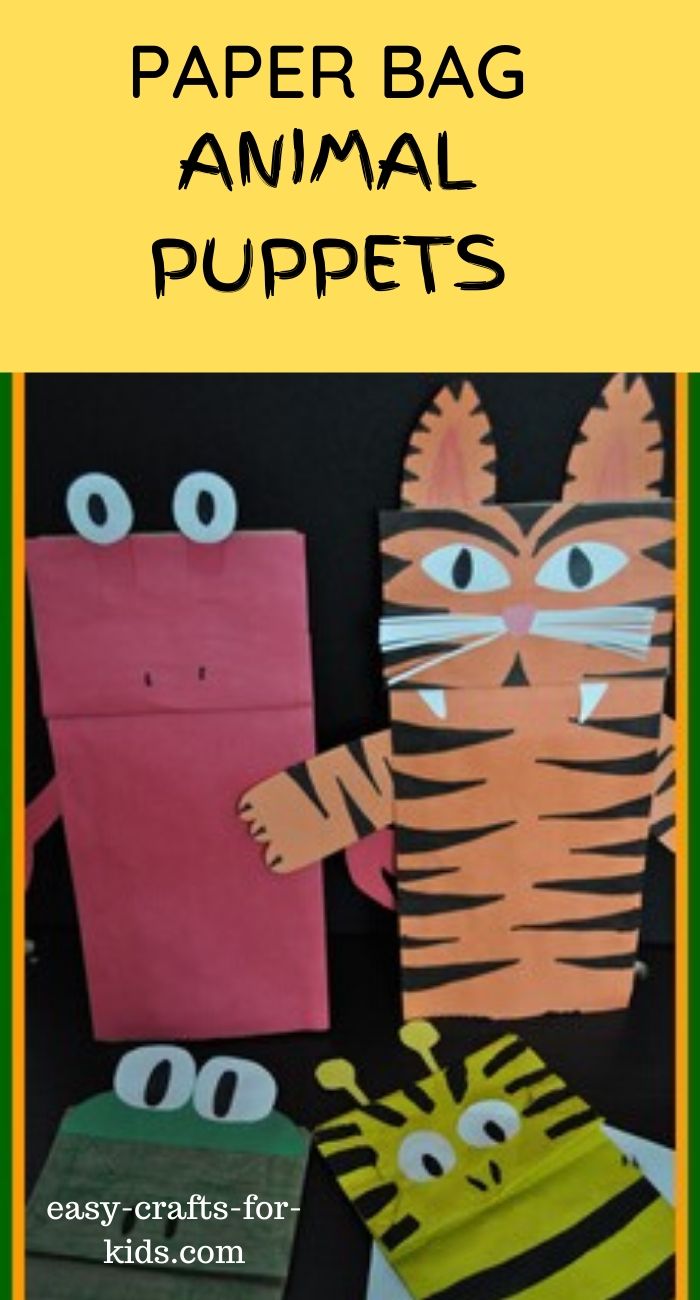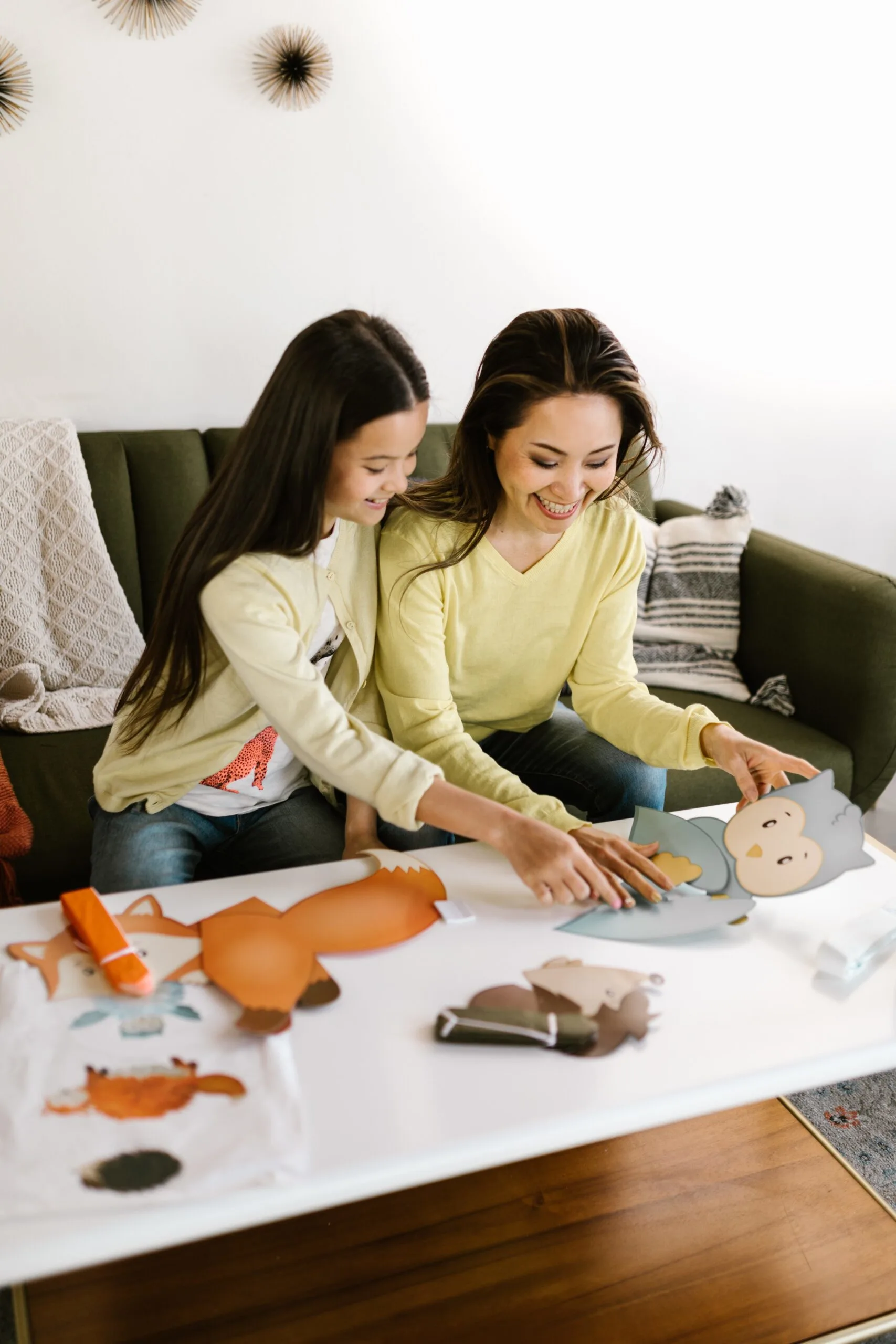 Hi there, I'm Laura an avid kids crafter with two little ones of my own to keep entertained! I have been doing kids crafts since 2018! Here at Easy Crafts for Kids you can find seasonal crafts for all age groups, as well as drawing tutorials, coloring pages and some other fun printables!