Mother's Day is fast approaching and a great way for kids to show Mom she is loved is one of my Mother's Day Handprint cards!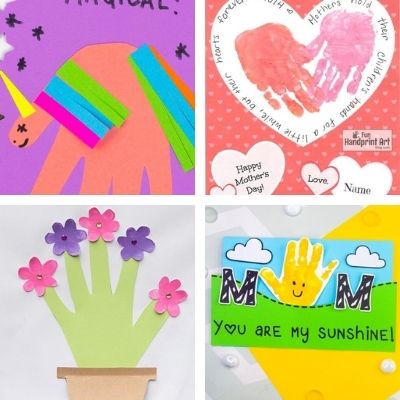 This year was one of my best Mother's Days yet as both my kids made handprint pictures with verses on them to give me! They were so proud of their creations and delighted to give them to me.
My kids are 4 and 5 now so are the perfect age to be doing handprint crafts!
You can make so many things from using the outline of your hand and fingerprints like my turkey from hand for Thanksgiving!
How about making some animals, flowers, nature and lots more! In fact you can make anything you like. My butterfly handprint could be done at the front of a Mother's Day and a greeting added in the inside!
These easy Mother's Day crafts for kids teach them to be creative while being appreciative of Mom at the same time! One of my most recent Mother's day cards to make is the adorable Daisy paper craft below:-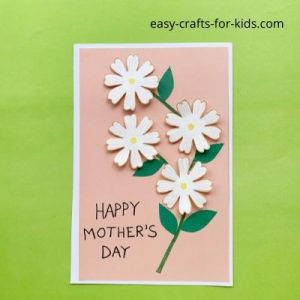 While I do not have a collection of hand print cards for Mother's Day on my site I do have this list below from some of my famous crafty friends. Some of these are even suitable for toddlers and preschoolers so that no one has to miss out on the fun, however young they are!
I do hope you like these hand print Mothers Day cards for kids.
Mother's Day Handprint Cards
My fabulous list of Mother's Day handprint cards will give you lots of ideas for cards for kids to make!

These are just a few of the handprint Mothers Day cards ideas that you can use for Mother's Day. You can also use these for Birthday cards!
You might want to look up some great Mother's day poems to add to the inside of your card. These only have to be a few lines long!
Why not try some of my Printable Mother's Day coloring pages for free and use them as cards? Works a treat for younger kids.
If you like the idea of making Mother's Day cards with kids you might be interested in my free printable. It has a set of Mother's Day cards to color. These are folding cards. You can see what they look like in the image below.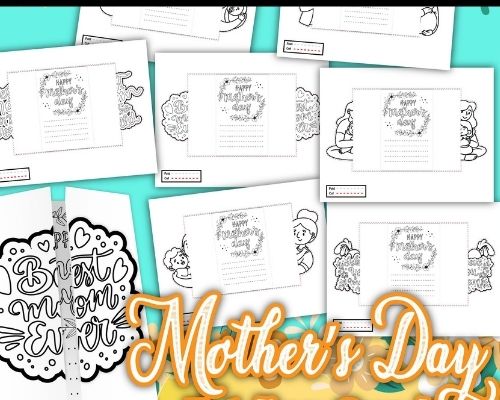 I know my 6 year old loves to color so these are right up her street. They are especially good for young children who are just starting to color. I love the fact that you can print these and leave your child to complete them (perfect quiet time activity).
Print my free Printable Mother's Day coloring cards below:-
Mothers Day Printable Cards to Color
Some more Mother's Day Card Ideas for Kids to Make
Mother's Day Pop up Tulip Card
Spring Flower Mother's Day Card
Which one of my Mother's Day Handprint Cards will you do?