Mother's Day is fast approaching and a great way for kids to show Mom she is loved is one of my Mother's Day Handprint cards!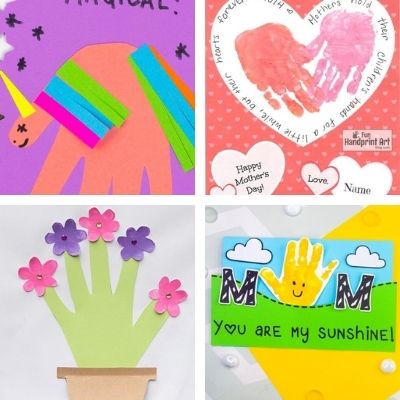 This year was one of my best Mother's Days yet as both my kids made handprint pictures with verses on them to give me! They were so proud of their creations and delighted to give them to me.
My kids are 4 and 5 now so are the perfect age to be doing handprint crafts!
You can make so many things from using the outline of your hand and fingerprints like my turkey from hand for Thanksgiving! How about making some animals, flowers, nature and lots more! In fact you can make anything you like.
These easy Mother's Day crafts for kids teach them to be creative while being appreciative of Mom at the same time!
While I do not have a collection of handprint cards for Mother's Day on my site I do have this list below from some of my famous crafty friends. I do hope you like these DIY Mother's Day card ideas for kids.
Mother's Day Handprint Cards
My fabulous list of Mother's Day handprint cards will give you lots of ideas for cards for kids to make!

These are just a few of the handprint card ideas that you can use for Mother's Day. You can also use these for Birthday cards!
Some more Mother's Day Card Ideas for Kids to Make
Mother's Day Pop up Tulip Card
Spring Flower Mother's Day Card
Which one of my Mother's Day Handprint Cards will you do?