I love folding paper to make fun decor! One of my favorite ideas is my easy Witch origami which is perfect for Halloween!
Witches, witches, witches everywhere in our house! We have a flying witch appearing from a paper cup. We have a toilet paper roll witch, which my little girl sits on her bedroom window!
But at least these witches make for fun crafts. Since I had an excess of paper, and time on my hands I thought I would figure how out to fold some pieces of paper to make my own witch. Now that I have mastered it, it is time to teach you and my children how to make these cute paper witches.
If you love this idea please check out my list of Halloween origami instructions which will teach you to make lots of different things for October 31st! One of my favorite new origami is my 3d pumpkins shown below!
What you need to Make My Halloween Origami Witch
Most of my Halloween witch crafts require lots of materials but not this one!! You only need 4 things:- Craft papers, pencil, glue and scissors
You will definitely require my free procedure and perhaps alot of patience too! This is why I recommend this activity for older kids and even adults!!
Younger kids will enjoy watching and also playing with this pair of friendly witches afterwards! Why not encourage kids to give these two a witchy name
My Halloween witch origami tutorial with instructions is below and will show you step by step how to make this pair, who will not fly away from you. There are instructions for the origami witch hat also.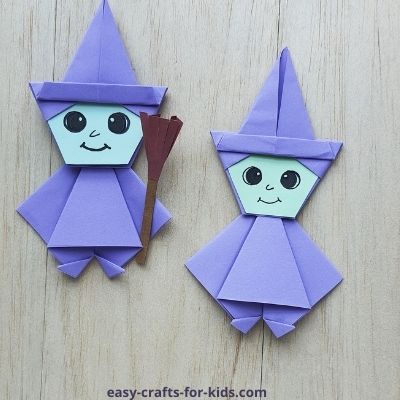 Easy Witch Origami for Halloween
This easy witch origami for Halloween is perfect for kids who want to make a pair of paper witches using my free step by step instructions
Materials
1. Colored craft papers
2. Craft glue
3. Pencil
4. Scissors
Instructions
Step 1:

Select 2 square paper pieces of the same size for the witch craft.

Select another colored craft paper for the face of the origami witch; we'll work on it later.
Take any one of the square papers.

Step 2:

Fold the square paper into half diagonally and then unfold the paper.

Now, fold the opposite corners (on both sides of the half folding crease) and fold them inside, aligning their outer edges along the middle crease.

Your piece of paper should look as below
Step 3:

Unfold the last 2 folds, they will leave creases. You can see these clearly below


Step 4:

Hold the right corner and draw it inwards, making the fold from the outer point of the last crease and aligning the bottom-outer edge of the right corner with the right crease formed in the previous step.

Similarly, fold in the left side.



Step 5:
Now, fold in the right and left sides along the creases created in step 2.


Step 6:

Fold the top narrow corner of the current pattern all the way to the opposite corner.


Step 7:

Now, fold up the narrow corner along the points of the folded parts right below the narrow corner part.


Step 8:

Hold the double layered folds (between the 2 corner sides) and bring it upwards by folding it into half.

If you notice carefully, we have created the hat of the witch.

You could stop here if you want witch hat origami but it is more fun to continue to get the complete witch.


Step 9:

Flip the current pattern to the other side.


Step 10:

Fold up the bottom corner into half.


Step 11:

Fold the right and left side of the current pattern inside, aligning their bottom parts of their open ends together along the middle.


Step 12:

Flip the current pattern to the other side. Trace and cut out a small piece of paper (selected for the witch's face) to fit inside the trapezium shaped head pocket.


Use a sharpie to draw the face of the papercraft witch. You can make her smile or frown!


Step 13:

Take the other square paper and fold it into half.

Step 14:

Bring the 2 left and right top corners down by folding them evenly from both sides.


Step 15:

Hold the inner (open) edge of the right folded part and fold it outwards by aligning the open edge with the outer edge of the right side. Similarly, fold the left side.


Step 16:

Flip the current pattern to the other side.

Step 17:

Fold the left side and draw it inwards, aligning its outer edge with the middle line of the current pattern. Similarly, fold in the right side.


Step 18:

Flip the current pattern to the other side. Fold the open bottom ends to 90 degrees to give them a feet-like pattern.

You can see the witch face and body below. This should be the stage you have reached now.


Step 19:

Use craft glue to attach the origami head on the top side of the origami body pattern to complete the witch craft.

You can craft a small paper broomstick and attach it on either hands of the origami witch.
Notes
I love these light purple witches! You can make these in any color you wish! You can have green witches, blue witches, black witches! Just change the color of the craft papers you use!

You can also decorate their dresses by adding polka dots with a marker.

What will you do with your origami witch? Little kids can use these for pretend play. Add a popsicle stick onto the end and use it as a Halloween puppet.
You could also use it as a Halloween bookmark. I am guessing my daughter will be holding onto these a long time after Halloween is over!
If you love this theme, why not try some of my cute witch coloring pages! Younger kids could do these while older kids are making the origami witch.
Can you think of some other things you can make using folded paper? How about my origami butterfly or my fortune teller craft?
Keep your kids busy crafting during the school holidays with my large list of fun Halloween craft ideas
Do you like this Easy Witch Origami for Halloween?
Hi there, I'm Laura an avid kids crafter with two little ones of my own to keep entertained! I have been doing kids crafts since 2018! Here at Easy Crafts for Kids you can find seasonal crafts for all age groups, as well as drawing tutorials, coloring pages and some other fun printables!